In Memoriam: Richard A. Gahr (1947 - 2013)
Posted on October 7th, 2013 at 12:00 AM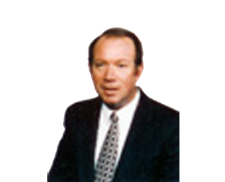 Richard A. Gahr, a former member of the Lycoming Law Association, died on October 7, 2013.
Here is his obituary:
Born Aug. 16, 1947, in St. Marys, he was the son of Robert A. and Edith Jackson Gahr.
He is survived by his wife, the former Peg O'Malley. They observed their 43rd anniversary on Aug. 15.
In addition to his wife, Rick is survived by sons Matthew (Amanda) of London, UK and Daniel (Shirin) of San Francisco, Calif.; brothers, Thomas A. (Joanne) of Northfield, N.J. and Patrick A. (Ann) of New Cumberland; and two grandchildren, Aidan and Audrey Gahr.
Rick graduated from Elk County Catholic High School in 1965, the University of Scranton in 1969 and Temple University School of Law in 1973. He practiced law in Williamsport for 33 years, serving as both Assistant District Attorney and Williamsport City Solicitor for several years during that time. For his commitment to pro bono work he received the Equal Access to Justice Award in 1990. After his retirement from private practice, he discovered a love for teaching as a substitute teacher in several local districts.
Rick was a devoted husband, father, brother, grandfather, and friend. He loved to travel, and to soak in the sun at the beach. His interests included architecture, photography, and contemporary art. He was an avid reader and an enthusiastic golfer.
He was an Eagle Scout and continued work with the Boy Scouts of America as a former district chairman, North Penn District. His many civic contributions included membership on the executive board of the Grampian Association; the board of Lycoming Neighborhood Development Corporation; the Executive Committee of the Lycoming Law Association; and the Board of Directors of North Central Sight Services. He was an incorporator and member of the original board of St. Anthony's Center, and member of the first Main Street Organization, City of Williamsport.
Rick was involved for many years in state and local politics. He was an active volunteer in many campaigns and was currently serving as a Democratic State Committeeman.