Join the Lycoming Law Association
Active Member
An attorney who maintains or who maintained at the time of retirement, primary residence or a primary office for the practice of law in Lycoming County, Pennsylvania, and who meets all of the conditions of membership as established by the LLA from time to time.
Senior Member
An Active Member who has been a member for at least 35 years, has reached the age of at least 75 years, and who desires to continue membership in the Association as a Senior Member. Senior Members shall be entitled to all the rights and privileges of Active Members.
Associate Member
An attorney who is a member in good standing of the Bar of the Supreme Court of Pennsylvania and who do not qualify for Active Membership shall be eligible for Associate Membership. Associate Members shall be entitled to all rights and privileges of Active Members except the right to vote on Association business or to hold office in the Association.
Dues Requirements
If you are an Active Member or Associate Member of the LLA, your dues are $125.00 per annum. If you are a Senior Member of the LLA, then you are exempt from dues. If you have been a member of the bar for 3 or fewer years, your dues are $100.00 per annum.
We are a unit county with 100% Pennsylvania Bar Association membership. PBA dues are paid annually through the Lycoming Law Association. For more information about becoming a member of the Lycoming Law Association, contact our office.
Participate in Local Court Admission Ceremony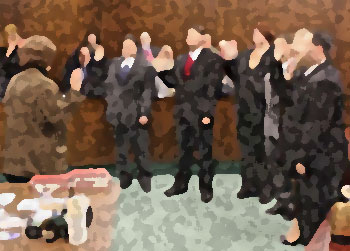 The Lycoming County Court of Common Pleas continues the tradition of admitting new attorneys to practice before the "Several Courts of Lycoming County." The Court often schedules an admission ceremony for December, after the Bar Exam results are reported. Attorneys who have recently commenced practice in Lycoming County are encouraged to participate, to be introduced to the Lycoming County Bar. The motion and application must be completed and returned to the Court Administrator's office one week prior to the scheduled ceremony. Contact the Court Administrator with questions, (570) 327-2330.
Download Admission Motion Form (Word)Download Admission Motion Form (PDF)