About the Lycoming Law Association
The mission of the Lycoming Law Association is to promote the practice of law using the highest ethical standards and to advance the public image of our profession. We accomplish this by communicating within our profession and throughout our community, providing continuing legal education, encouraging collegiality among attorneys and the court, providing pro bono legal assistance, and through community involvement.
Our History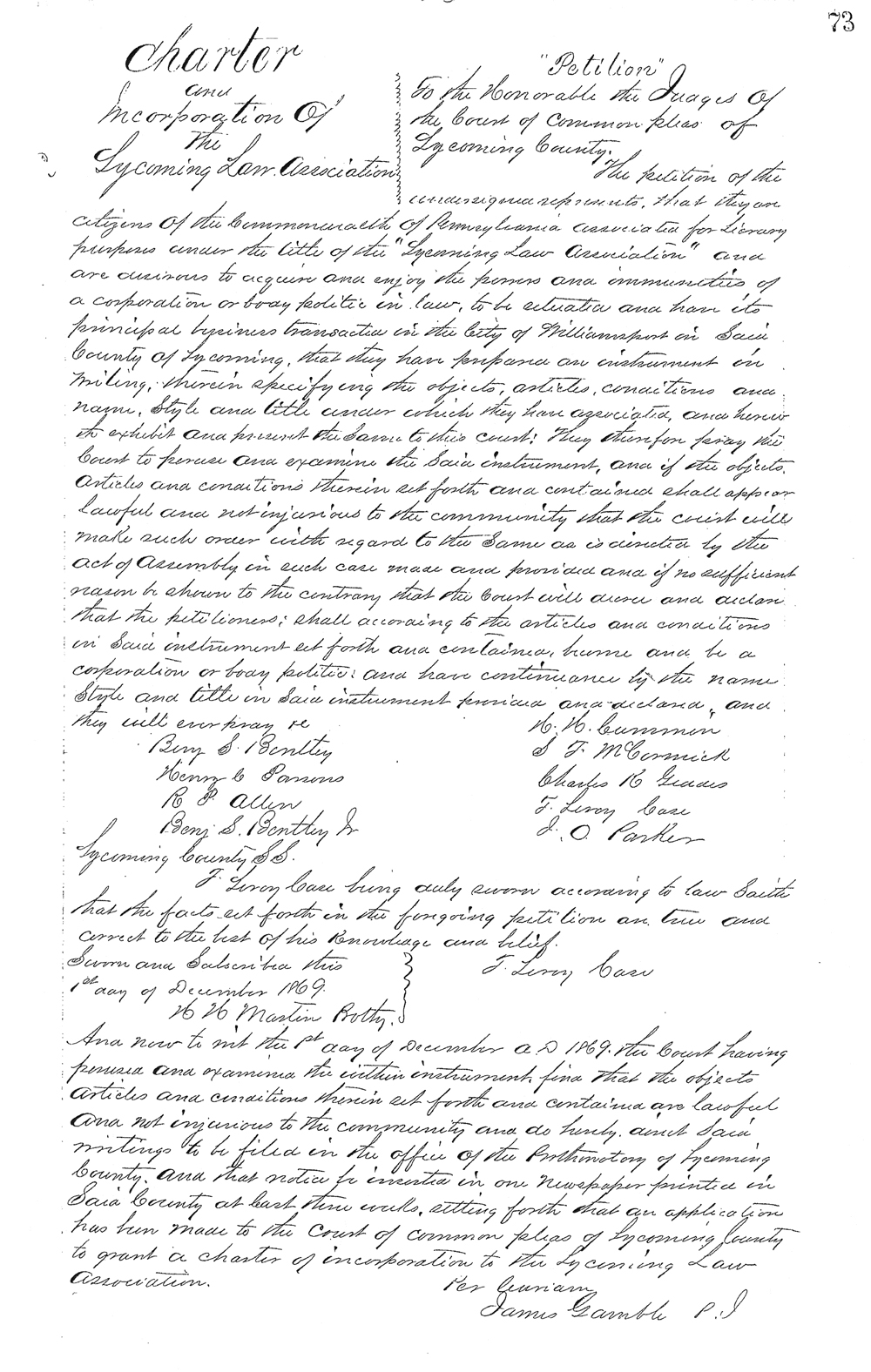 On December 1, 1869, a group of prominent Lycoming County attorneys, recognizing the need to maintain a "well-selected law library convenient and accessible to all the members", and to promote among the members "kind and social relations, professional courtesy and urbanity," and to assist its members "in acquiring legal knowledge and correct practice," petitioned the county court to incorporate the Lycoming Law Association. The petition was granted on January 25, 1870, by Judge Gamble. The first president of the Association was Robert Fleming.
In 1949, the Lycoming Reporter was established by the Executive Committee of the Association, with Malcolm Muir as its first editor, and in 1951, the Charter was amended to reflect the establishment of "a legal journal," and the publication of the Lycoming Reporter, the official legal periodical of Lycoming County, became an important function of the Association.
In 2004 the membership, in recognition of the increasing complexity of the organization's management, approved the employment of an Executive Director. Currently, the Lycoming Law Association serves over 200 lawyers.
Read More
Historical texts
Historical Documents


Charter of Incorporation. On December 1, 1869, a group of prominent Lycoming County attorneys, recognizing the need to maintain a "well-selected law library convenient and accessible to all the members", and to promote among the members "kind and social relations, professional courtesy and urbanity," and to assist its members "in acquiring legal knowledge and correct practice," petitioned the county court to incorporate the Lycoming Law Association. The petition was granted on January 25, 1870 by Judge Gamble. Read the original document, as recorded in Deed Book 62, page 73.
Amended Charter. The original charter was amended by decree entered December 26, 1951, by Judge D. M. Larrabee, which is recorded in the Charter Book 4, pages 373-75.

Officers and Membership Data