Grant Opportunity - Apply Now!
Posted on March 16th, 2022 at 9:27 PM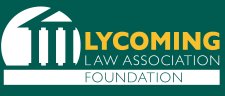 The Lycoming Law Association Foundation (LLAF) is accepting applications for grants for law - related activities in Lycoming County. The LLAF is a tax-exempt, non- profit organization and its Board of Trustees is made up of eight local attorneys and a federal judge who are members of the Lycoming Law Association. Its mission is to educate the general public about, and promote improvement in, the legal process and jurisprudence. Since its organization in1989, the LLAF has serv ed as the charitable giving arm of the Lycoming Law Association. It is funded almost exclusively by attorneys who make memorial donations to honor deceased colleagues and from lawyers who donate fees earned from serving as court - appointed Arbitrators.
Grant applications are first reviewed by the Lycoming Law Association's Community Outreach Committee, which makes recommendations to the LLAF Board of Trustees regarding a grant applicant's compliance with its criteria, as well as consistency in fulfilling t he LLAF's Mission. The LLAF Board then reviews the Outreach Committee's recommendations and votes on grant applications at its regularly scheduled quarterly meetings.
The LLAF Board has historically voted annually to grant North Penn Legal Services 80% of the arbitration fees donated by local lawyers to assist indigent residents of Lycoming County by providing legal services. Additionally, the LLAF has funded the abstracting, indexing and preserving of important historical legal documents by the Lycoming County Historical Society; high school students' participation in the local, regional and state - wide Mock Trial Competitions; assistance with Landlord - Tenant Mediations and the Wills for Heroes Programs; and many other Lycoming County law - related activities . Since 2003, the LLAF has granted over $200,000 to worthy local law - related causes.
Applications are open to individuals, groups or other non - profit organizations. Applications can be downloaded from www.lycolaw.org/uploads/resources/156834_grant-application.pdf.