Project Linus Blanket Collection - LAST DAY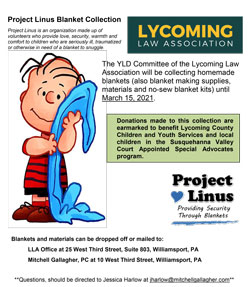 Location: Lycoming County
Phone: (570) 323-8404
Email: jharlow@mitchellgallagher.com
Date: Mar 15th 2021 12:00:pm - 12:00:pm
Details:
The Young Lawyers Division of the Pennsylvania Bar Association is collecting blankets for Project Linus, an organization that donates handmade blankets to children in need.  More information about Project Linus can be found on their website: www.projectlinus.org. A virtual blanket making event will be held on February 18, 2021 at 5:30PM (by Zoom) for those interested in participating. See attached flyer for details. 
The LLA will collect homemade blankets (and also blanket making materials and unassembled blanket kits) until March 15, 2021.  Please encourage staff in your offices to participate too!  The LLA's donation will be earmarked for local children receiving services from Lycoming County's Children & Youth Office and Susquehanna Valley CASA.
Please consider donating a blanket to this great cause.  For those without sewing or crocheting skills, no sew blanket kits can be found on Amazon or in local craft stores. Donations can be dropped off or mailed to the LLA office at 25 West Third Street, Suite 803, Williamsport, PA or Mitchell Gallagher P.C., 10 West Third Street, Williamsport, PA.
**If anyone has a donation and needs it to be picked up, please contact Jessica Harlow at jharlow@mitchellgallagher.com or (570) 323-8404.**