In Memoriam: Kristine Waltz (1957-2019)
Posted on December 23rd, 2019 at 2:37 PM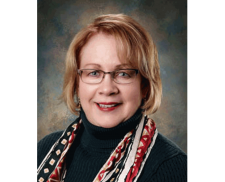 Kristine Waltz a member of the Lycoming Law Association died unexpectedly on December 22, 2019.
OBITUARY
On Sunday, Dec. 22, 2019, Kristine Waltz, loving wife and mother of two children, passed away at the age of 62.
Kristine was born April 1957 in Jersey Shore, a daughter of Carl and Anita Waltz.
She graduated from Lycoming College in 1979 and went on to graduate from the Temple University School of Law. She practiced law in Lycoming County for 36 years.
In April of 1993 she married Stephen Sorage, they raised two daughters, Stephanie and Sarah.
Kristine had a love for music and was active in the music program at Lycoming College. She was also active in the Williamsport Civic Chorus and her church choir. She had a beautiful voice which will be missed by many.
She also donated her time to assisting the mock trail team of the Montoursville Area High School. She enjoyed volunteering her time with the staff and working with the youth on their presentations and their understanding of the law.
Kristine loved to help others and was able to use her professional expertise by bringing a program, Wills for Heroes, to Lycoming County. This program provides wills to first responders and veterans, free of charge. Kristine's desire to help people extended beyond her passing, through organ and tissue donation.
Kristine was preceded in death by her father, Carl; and her mother, Anita.
She is survived by her husband, Stephen; daughters, Stephanie and Sarah; her twin brother, Kevin, and wife, Lori; and older brothers, Tom and wife, Jessica, and Steve and wife, Susan; along with numerous, loving nieces, nephews and cousins.
A funeral service will be held at First Church, 601 Market St., Williamsport, on Jan. 4, 2020, at 12:30 p.m. with Rev. Rick Waters officiating, followed by a time of fellowship at the Life Center, 604 Market St. Williamsport.
Donations in Kristine's honor may be made to; The Gift of Life Organ Donation at donors1.org; or Williamsport Civic Chorus, P.O. Box 752, Williamsport, PA 17703.