In Memoriam: Richard J. Callahan (1948-2020)
Posted on May 4th, 2021 at 4:00 PM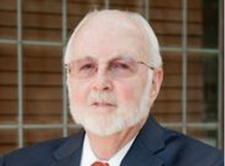 Richard J. Callahan, a 44 year member of the Lycoming Law Association, died on September 1, 2020.
---
Obituary
Richard J. "Dick" Callahan, 71, of Montoursville, passed away unexpectedly at home on Sept. 1, 2020. He was remembered by members of the Association during a special session of court held May 4, 2021.
Dick was born in Williamsport on Dec. 16, 1948 son of Charles V. Callahan Jr. and Mary G. (Chapman) Callahan.
He received his JD from Villanova University School of Law, was an honors graduate of Penn State University and a graduate of the former St. Joseph High School.
Dick served in the Army National Guard, was a member of the Nittany Lion Club, the Penn State Founders Club, and the Williamsport Country Club. He was an avid golfer, enjoyed everything Penn State and was a lifelong Philadelphia sports fan.
He was in private practice for over 40 years, co-founded two law firms and was a prominent trial attorney as a member of the Lycoming County Bar Association.
Surviving are his wife, the former Janet L. Berrigan, a son, Richard J. Callahan Jr. of Williamsport; grandchildren, Chase R., Connor M., and Cooper M. Cowden; siblings, Charles V. Callahan III of San Francisco, Joan A. Callahan of Muncy and Sharon Harshberger of Colorado.
He was predeceased by his parents, and his daughter, Shannon K. Cowden.
The family will receive friends at St. Boniface Church, 326 Washington Blvd., Williamsport on Tuesday, Sept. 8, from 9:15 to 10:45 a.m., in keeping with CDC guidelines a mask will be required.
A Mass of Christian Burial will be celebrated at the church, 11 a.m. Sept. 8, with Msgr. Stephen D. McGough officiating, followed by burial at Wildwood Cemetery.
In lieu of flowers, the family respectfully suggests memorial contributions in Dick's name may be made to, Cystic Fibrosis Foundation Northeastern PA Chapter, 600 Corporate Circle, Suite 103, Harrisburg, PA 17110, or House of Grace Catholic Worker, Philadelphia, PA 19125.

Resolution
IN THE COURT OF COMMON PLEAS OF LYCOMING COUNTY, PENNSYLVANIA
IN RE: LLA BAR HISTORY :
MEMORIAL RESOLUTION :
RICHARD J. CALLAHAN, ESQUIRE :
REPORT AND RESOLUTIONS OF COMMITTEE
TO THE HONORABLE JUDGES OF THE ABOVE NAMED COURT:
The honorable Judge Nancy L. Butts, President Judge of the Court of Common Pleas of Lycoming County, 29th Judicial District, by Order dated February 19, 2021, appointed the undersigned Committee to draft Resolutions memorializing the life of Richard J. Callahan, Esquire and to submit same to this Honorable Court at a session of Court scheduled May 4, 2021. The report and Resolutions of this Committee will now be submitted to the Court as follows:
Richard J. Callahan, commonly referred to as Dick by his friends and family, was born in Williamsport on December 16, 1948 to Charles V. Callahan Jr. and Mary G. (Chapman) Callahan. Dick has three siblings, Charles V. Callahan III of Colorado, Joan A. Callahan of Muncy and Sharon Harshberger of Colorado.
Dick is survived by his siblings, his wife, Janet L. Callahan, a son, Richard J. Callahan, Jr., of Williamsport; grandchildren, Chase R., Connor M., and Cooper M. Cowden. Dick was preceded in death by his daughter, Shannon, who passed away unexpectedly from injuries sustained as a result of an ATV accident in 2012.
Dick graduated from St. Joseph's High School in 1966. During his time at St. Joe's, Dick was a member of the high school debate team as well as the basketball team. Dick excelled as an athlete despite overcoming Polio as a child. But for a slight limp and noticeable size difference between his two legs, you would never know that he was afflicted by Polio when watching him dribble a basketball on the court or run down a fly ball on the baseball field. Dick's athletic prowess lead him to join the Pennsylvania Army National Guard in 1970. He remained in the Guard until 1979.
Following graduation from high school, Dick attended the Pennsylvania State University where he graduated with honors. He graduated from the Villanova University School of Law in 1974 and subsequently admitted to the Court of Common Pleas of Lycoming County and to the Supreme Court of Pennsylvania the same year.
He was first employed as an associate attorney with the law firm of Greevy and Mitchell in September 1974. Dick remained with the Mitchell family after the Mitchell's and Greevy's split. Dick continued to practice with the Mitchell and Mitchell firm until he hung his own shingle as a sole practitioner in 1978. He remained in solo practice until he partnered with Anthony Miele forming the Miele and Callahan Law Office. Throughout his forty plus year legal career, Dick realized partnerships and or associations with various local attorneys including John Zurich, Don Martino, Ryan Gardner, Christian Lovecchio and Matthew Diemer. Dick took great pride in campaigning for and assisting Ryan achieve the position of District Attorney in 2019 and he did this while silently battling several significant medical issues including diabetes and renal failure.
Dick will certainly be remembered as a zealous criminal and civil litigator who possessed a quick wit and a feisty fighting Irish spirit. In addition to his legal accomplishments, Dick was also a proud business owner. He purchased the New Lycoming Bakery on June 28, 1991 and owned and operated same until he sold it to his daughter, Shannon and son-in-law, Matt, on May 22, 2006. It was during his ownership of the New Lycoming Bakery that Dick underwent heart valve replacement surgery and left the day-to-day operations of the bakery to his longtime friend, Attorney Ed Mitchell, until he was medically cleared to return. Heart surgery was not a deterrent to Dick's business endeavors as he decided to purchase and operate the Bridge Tavern located in South Williamsport with then business partner, Ron Insinger.
If you ever had occasion to meet Dick, you knew immediately his allegiance to the Blue and White of Penn State University. He was a member of the Nittany Lion Club and the Penn State Founders Club. Any local avid Penn State fan trying to score last minute tickets to a wrestling match, concert, basketball game or football game realized that one phone call to Dick would likely generate a few tickets, and if lucky, his parking pass as well. Dick's passion for sports did not end with all things Penn State as he also blead green and white for his Philadelphia Eagles. When not swinging his clubs on the Country Club golf course during football season, Dick could almost always be found in front of the television with his friends and family watching either Penn State or Eagles gridiron football.
Dick's knowledge base with regard to basketball was second to none. He could easily dissect both offensive and defensive plays. This skillset led him to become longtime Loyalsock varsity basketball coach Ron Insinger's assistant during the era when Loyalsock made several good runs at a state title in the mid to late 1990's. Dick was the brain trust behind the shot calling and formations during this time and spoke often of the 1995 Loyalsock vs. Williamsport game that was held at Lycoming College.
It was also during the mid to late 1990's that Dick was introduced to Loyalsock High School student, Tyrone Quartman through his son, R.J. After R.J. explained to Dick that Tyrone's home life was less than desirable, the decision was made to allow Tyrone to live with Dick and his family until Tyrone graduated high school. After Tyrone's untimely death at the age of twenty-six (26), Dick paid for all funeral and burial expenses.
Dick was a devoted Husband, Father and Grandfather. He enjoyed life to the fullest, capitalized on every opportunity to attend any event in which his grandchildren participated and despite the affliction of physical ailments just prior to his death, he still enjoyed going to the office and sharing anecdotes about Chase's, Connor's and Cooper's many accomplishments.
Dick's family has lost a loved and loving Husband, Father and Grandfather. Society has lost a contributing, compassionate and exemplary member.
Your Committee recommends the adoption of the following Resolutions:
BE IT RESOLVED that in the passing of Richard J. Callahan, there has been a loss to the Bar of Lycoming County of an able and conscientious member who upheld and exemplified the highest traditions of the legal profession, a loss to the community of a valued participant, a loss to his family of a devoted, kind and loving husband, father, and grandfather, and a loss to his friends and acquaintances of a sincere and caring man.
BE IT FURTHER RESOLVED that this Court and this Bar do hereby extend to Dick's wife, son, grandchildren, siblings, nieces and nephews a deep and heartfelt expression of sympathy.
BE IT FURTHER RESOLVED that this Resolution be spread at length upon the Minutes of the Court of Common Pleas of Lycoming County and that copies of the same be sent to Dick's wife, son and grandchildren.
RESPECTFULLY SUBMITTED,
Ryan C. Gardner, Esquire, Chairman
Edward Mitchell, Esquire
John R. Zurich, Esquire
Donald F. Martino, Esquire
Christian A. Lovecchio, Esquire