In Memoriam: James Cendoma (1927-2021)
Posted on July 6th, 2021 at 8:26 AM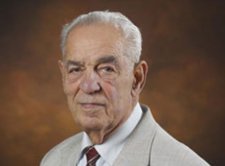 James F. Cendoma, a 63 year member of the Lycoming Law Association, died on February 15, 2021. He was remembered at a special session of court that took place on July 6, 2021.
Obituary
James F. Cendoma, 94, of Williamsport, passed away on February 15, 2021.
He was born in Williamsport on Jan. 28, 1927, a son of Michael and Antoinette (Miele) Cendoma.
James was a graduate of Williamsport High School; he then joined the U.S. Navy in 1943. He served in the South Pacific aboard the USS Catalpa, he had many stories about the biggest conflict in history, he was very proud of his service to his country.
Upon his return from the conflict, he attended Dickinson Seminary, now Lycoming College and went on to graduate with honors from the Washington School of Law at American University in Washington D.C in 1953. He has been an attorney in Lycoming County for 53 years and a proud member of the Lycoming County Bar Association since 1957. James also served on the PA Horse Racing Commission under Governor Schapp.
Surviving are his siblings, Rosie Fagnano, Vita Jones and Michael Cendoma; children, James (Margaret), Gregory (Cindy) and David Cendoma; step-children, Debbie (Tom) Schwalm, Diane (Jim) Musser and Ted (Linda) Prettyleaf; grandchildren, Michael (Denise) Cendoma, James, Gregory, John and Joseph (Christy) Cendoma; step-grandchildren, Sean (Heather) Lupole, Charles (Rebecca) Lupole, Chad (Sarah) Musser, Chris (Jennifer) Musser, Dustin (Jennifer) Prettyleaf, Jessica (Matt) Hicks; 8 great grandchildren and 9 Step-great grandchildren.
In addition to parents his wife, the former Brenda Prettyleaf and siblings, Emanuel, Matthew Cendoma and Theresa Lomison all preceded him in death.
A Mass of Christian Burial will be celebrated, 10 a.m. Monday, Feb. 22, 2021 at St. Joseph the Worker Parish, 702 W. 4th St., Williamsport with his pastor, Rev. Brian Van Fossen officiating, burial will follow at Wildwood Cemetery. Following CDC guidelines, a mask and social distancing will be required.
In lieu of flowers, the family respectfully suggests memorial contributions in James' name may be made to; St. Joseph the Worker Parish, 711 W. Edwin St., Williamsport, PA 17701.
---
Memorial Court Session
---
Memorial Resolutions
IN THE COURT OF COMMON PLEAS OF LYCOMING COUNTY, PENNSYLVANIA
In Re: LLA BAR HISTORY
MEMORIAL RESOLUTION
JAMES F. CENDOMA
TO THE HONORABLE JUDGES OF SAID COURT:
On or about April 6, 2021, the Honorable Nancy L. Butts, President Judge of the 29th Judicial District of the Commonwealth of Pennsylvania, appointed the undersigned Committee to prepare a report and resolutions memorializing the life and legal accomplishments of James F. Cendoma, for submission to the Court when completed. Accordingly, your Committee respectfully submits the following report and resolutions:
James F. Cendoma was born in Williamsport, Pennsylvania on January 28, 1927, the son of his proud Italian-American parents, Michael and Antoinette (Miele} Cendoma.
He grew up in the Williamsport area and attended the Williamsport High School in the early 1940's.
He joined the U.S. Navy at the age of 15 after forging his birth certificate, and served in the South Pacific aboard the USS Catalpa during WW II. The Catalpa carried out varied duties in the Solomon Islands during Jim's tenure, including tending to nets, laying mooring buoys, offering towing and salvage service, and providing divers for essential maintenance services for other ships and fleets.
In the fall of 1944 Jim was part of the staging for the invasion of the Palau Islands, a vital preparation for the return to the Philippines. On September 15, 1944, Jim and his mates stood sentry as troops invaded Peleliu and then sailed to mine-infested waters to prepare for major fleet anchorage. According to Jim, he saw "plenty of beachheads" getting as close to the beaches as possible riding in a mortar boat and firing mortars.
Jim never hesitated to tell "war stories" and he certainly had plenty. He was very proud of his service to his country. He recalled major battles at Okinawa and lwo Jima. On more than one occasion, his ship was attacked by kamikaze pilots and he fondly recalled shooting down "Japanese planes". The Catalpa received two battle stars for WW II service. He did "breathe a sigh of relief" when he found out that he would not be part of a planned invasion of Japan.
Upon his release from military service, he returned to Williamsport and began working on the dike. He described it as his first real job. It was hard work, lifting stones and using a hammer. He then took a job at Avco as a machine operator and obtained his high school diploma. He attended then Dickinson Seminary, now Lycoming College. He graduated and then attended The Washington School of Law at American University in Washington, D.C. He graduated with honors in 1953.
He joined the Lycoming Bar association in 1957 and for many years represented thousands of clients on varied legal matters. He was the consummate general practioner.
Among his many accomplishments, he served as counsel to the Pennsylvania Horse Racing Commission under then Governor Schapp. Among his more notable cases were Valley Forge Racing Association v. State Horse Racing Commission where he was successful in defending an action against the Commission to reverse a licensing decision. In Stokes v. Lecce, he defended the Chairman of the Commission in a civil suit, and although losing a verdict, the damages were limited to only $10,000 and no attorney's fees.
In fact, the case is sometimes cited for the principle that "Fairness of procedure is due process in the primary sense. It is ingrained in our national traditions and is designed to maintain them." Citing Justice Frankfurter in Joint Anti-Fascist Committee v. McGrath.
Jim was a man and attorney of character, class and fairness. He was always willing to help but more importantly, he was always willing to ask for help from other attorneys in order to best serve his clients. As the general practice of law became more difficult, Jim stayed the course and fought the great fight. His kind of lawyer is a dying breed. His loss is a huge loss to the community at large and the legal community.
Jim is remembered for his affable manner, his sincere interest in humanity, his service to his church and his commitment to his family. He was predeceased by his wife. He is survived by numerous siblings, children, grandchildren, step-grandchildren and even 8 great grandchildren and 9 step-great grandchildren.
Seneca, a philosopher and writer, once commented that : "As is a tale, so is a life: not how long it is, but how good it is, is what matters." Jim was fortunate on both accounts living a long and good life.
NOW THEREFORE BE IT RESOLVED, That we, the undersigned Committee approved by this Court, joined in by the Lycoming County Bar Association and Lycoming County bar members, do hereby recognize the passing of James F. Cendoma, Esquire and in his death we remember his many contributions to his country, the citizens of this county and others, his family and this Bar.
RESOLVED FURTHER, that these Resolutions be spread at length, upon the Minutes of Your Honorable Court and be published in the Lycoming Reporter.
RESOLVED FINALLY, THAT THIS Court and Committee and the Lycoming Cunty bar extend to his family our deep and heartfelt expressions of sympathy.
Respectfully Summited,
Hon. Marc F. Lovecchio, Chairman
Hon. William S. Kieser, Senior Judge
Charles F. Greevy, Ill, Esquire
Peter T. Campana, Esquire