In Memoriam: Joseph L. Rider (1935-2020)
Posted on April 19th, 2021 at 9:33 PM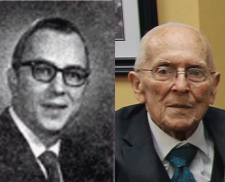 Joseph L. Rider, a 57 year member of the Lycoming Law Association, died on May 3, 2020. Joe served as the Association's President in 1977. He was remembered by the Bar during a special session of court held April 19, 2021.
Obituary
Joseph L. Rider, 84, of Montoursville, died at home on Sunday, May 3, 2020,
He was born in Williamsport on May 19, 1935, a son of Leo L. and Anna S. (Statts) Rider.
Joe was a graduate of the former St. Mary's High School, Lycoming College and Georgetown Law School. He practiced law for 58 years. He was a member of St. Ann Roman Catholic Church.
Surviving are his wife of 53 years, Barbara R. (Winters) Rider; a daughter, Margaret A. Rider; a son, Mark A. Rider; five siblings, Marilyn Neyhart, Eugene Rider, Thomas Rider, John Rider, and David Rider.
Burial will be private.
In lieu of flowers, the family respectfully suggest memorial contributions in Joe's name be made to a charity of your choice.
Crouse Funeral Home & Cremation Services has been entrusted with handling arrangements.
Special Session of the Court Honoring Joseph L. Rider, April 19, 2021:

View the entire
memorial session
on YouTube
Resolution
IN THE COURT OF COMMON PLEAS OF LYCOMING COUNTY, PENNSYLVANIA

IN RE: APPOINTMENT OF A COMMITTEE
TO DRAFT RESOLUTIONS IN THE
DEATH OF JOSEPH L. RIDER
NO. 21-0096
RESOLUTION
Joseph Leo Rider, Esquire, a Member of the Bar of this Court since1961, died unexpectedly at his home in Fairfield Township, Lycoming County, Pennsylvania on May 3, 2020 . He was the husband of Barbara Winters Rider with whom he shared 53 years of marriage. In addition to his wife, Joe was survived by his daughter, Margaret Rider (Rammage) of Georgia and son, Mark A. Rider, Montoursville. Joe was born on May 19, 1935, in Williamsport, Pennsylvania, and was the eldest son of Leo L. and Anna S. (Statts) Rider. Joe was raised in Williamsport along with his brothers, John, Eugene, Thomas, and David and a sister, Marilyn R. Neyhart. At age 4 Joe was afflicted with Polio which handicapped him, in name only, for the balance his life. The need for crutches did not hinder him from working at t he family business, Faxon Lumber Company unloading rail cars laden with lumber as well as performing other tasks at the business.
Joe graduated from St. Mary's High School, a predecessor of St. John Neumann Regional Academy, in 1953 and then from Lycoming College in 1957. While in college he was very active in his fraternity, Alpha Gamma Upsilon, serving as its President during his Senior Year and was also Assistant Editor of Lycoming's Yearbook. Joe completed his undergraduate degree from Lycoming College in 1957. Thereafter, he graduated from Georgetown University School of Law in 1961. He was admitted to the Bar o f the District of Columbia as well as the Commonwealth of Pennsylvania, the United States District Court, Middle District of Pennsylvania, the US District Court, District of Columbia and US Court of Appeals, District of Columbia Circuit.
Shortly thereafter, Joe joined the firm of Furst , McCormick, Muir & Lynn. As a typical young associate, Joe was relegated to handling family law matters, real estate, estate administration as well as a variety of other matters . During his fledgling years, he was taken under the wing of Malcolm Muir and he began to focus on Estate Administration and Estate Planning. The two left the firm in 1968 and formed the Law Office of Malcolm Muir of which Joe was an associate. The association was relatively short lived as Malcolm Muir was appointed as the US District Judge for the Middle District of Pennsylvania on November 6, 1970. At that time the Law Office of Joseph L. Rider was formed. Paul A. Roman became an Associate of Mr . Rider's in 1984 and the two continued t o practice together until Mr. Rider's death. While a capable speaker, Joe avoided appearing in Court whenever possible. He felt much more comfortable behind his desk surrounded by a wall of files or with a client reviewing and explaining their estate planning documents or the administration of an ongoing estate with an Executor. It was a rare client who would leave these sessions without feeling that they had a thorough grasp of their situation and confident that their matter was in the vary capable hands of Mr. Rider.
Joe was well recognized among by his peers for his expertise in estate administration . This admiration was not exclusive to Lycoming County but to the surrounding Counties as well as his reputation was known far and wide. He would frequently field questions from other attorneys regarding technical administration questions, but he felt particular satisfaction if a younger attorney would call upon him, especially those that did not focus their practice on estate administration. Many times Joe would bring these attorneys into his office to take them step by step through the administration of an estate that they were handling. He enjoyed the satisfaction that he received by mentoring the young attorney but just as importantly he knew that the estate was going to be handled correctly. He played no favorites with regard to clients. He would meticulously analyze an estate of $10,000 as much as he would a multimillion-dollar estate. Efficiency was not his strong suit, he would repeatedly take on small estates that no other attorney would accept due to the fact that it was financially a losing proposition. Joe was often times referred to as a workaholic due to his 80-hour work week, but the term is misnomer because Joe found time to serve his community, the courts, his church, and his family.
Although he rarely appeared in court, Joe was well known by the Judiciary of the County. He became the Lycoming Law Association President in 1976, and together with then Judge Thomas Raup, created the Bench Bar Committee on which he served as the representative of the Orphans' Court Division until his passing. Also as President of the Association Joe hired the first full time secretary for the Association, a position which continues to this day. He was also appointed a Member of a Committee charged with the task determining the ne cessity for a fourth Judge for Lycoming County. In 1977 Joe was appointed by the Supreme Court Disciplinary Committee to serve a 3 year term on the Estate Disciplinary Board. Beginning in 1978 and for the ensuing decade served as a Member of the House of Delegates for the Pennsylvania Bar Association. His devotion to the local Bar continued until his death as he was the sole remaining original Board Member of the Lycoming Law Association Foundation of which he served as President for many years.
Mr. Rider's contributions were not limited to the courts and the local Bar as he was a very active member of a variety of non-law related community service groups. He was a founding Member of the Loyalsock Kiwanis, subsequently serving as its President and he also served as President of the Williamsport Jaycees . While a member of the Jaycees he was the recipient of the Williamsport Chamber of Commerce, Key Man of the Year Award in 1966 . In 1967 he was appointed as a member of the Governors Committee for Employment of the Handicapped and served several terms on the State Committee while being very active at the local level. He was also a valued member of Lycoming County Industrial Properties Corporation for numerous years and was a Board Member for the Lycoming Foundation for several decades including serving as its President at the time of his passing. Many years were also devoted to serving on the Boards of the Park Home and Blind Association. Joe was also a past member of the Divine Providence Foundation and the Rider Park Foundation. In 1977 he served as President of the Ross Club, where he had the vision to turn what was a Men's only Club to permitting full membership to women as well.
Joe and his family were founding members of St. Ann's Catholic Church in Loyalsock and he was a devoted lifetime member of the Church. He was an instrumental member of the School Board for the fledgling St. Ann's Catholic Church and subsequently served on the Bishop Neumann School Board.
In spite of all of these activities he was still able to devote time to his family especially family vacations when the children were younger and spending time at his cabin on Loyalsock Creek.
Now therefore, be it resolved, that we, the undersigned Committee, joined in by the Lycoming County Bar and the Lycoming County Law Association, do hereby recognize and mourn the passing of Joseph L. Rider, Esquire and recognize and remember him as an excellent attorney who devoted his professional life to all of his clients equally and to the utmost of his ability regardless of their station in life; as an attorney he represented and stood for the highest principles of the legal profession; as a colleague he served as an example and resource to his peers and young lawyers alike; as a member of the Bar he devoted an abundance of his limit~d time to the courts , as a citizen of the community he was an untiring servant and as a man who had limited physical abilities, he was honored and respected by his family, his associates, his clients and all of those that he had an opportunity to touch.
And be it resolved further, that these resolutions and statements be spread at length upon the minutes for the court with copies to the family of Joseph L. Rider, Esquire and be published in the Lycoming Reporter; and be it resolved finally, that this Court, and Lycoming County Bar and Lycoming County Law Association extend to Joseph L. Rider's wife, daughter and son, our deep and heartfelt sympathy and our great respect for Joseph L. Rider, Esquire.
By the Committee,
Paul A. Roman, Chairman
Clifford A. Rieders
Fred A. Holland
C. Edward S. Mitchell
Thomas B. Burkholder