In Memoriam: Allen Edward Ertel (1936 - 2015)
Posted on December 7th, 2015 at 12:00 AM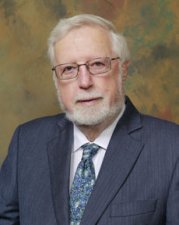 Allen E. Ertel, a 50 year member of the Lycoming Law Association, died on November 19, 2015. A memorial service was held in court on February 1, 2016.
Read the Memorial Resolutions from the special session of court of February 1, 2016:
IN THE COURT OF COMMON PLEAS OF LYCOMING COUNTY, PENNSYLVANIA
IN RE: RESOLUTIONS IN MEMORY OF ALLEN E. ERTEL, ESQUIRE
NO. 15-3084
REPORT AND RESOLUTIONS OF COMMITTEE
TO THE HONORABLE JUDGES OF SAID COURT:
On the 7th day of December, 2015, the Honorable Nancy L. Butts, President Judge of the 29th Judicial District of the Commonwealth of Pennsylvania, appointed the undersigned Committee to prepare a Report and Resolutions memorializing the life of Allen E. Ertel for submission to the court at a public ceremony on February 1, 2016 at 4:00 p.m.
Accordingly, your Committee respectfully submits the following Report and Resolutions:
1. The Honorable Allen E. Ertel, Esquire, a member of the bar of this court since 1967, died on Thursday, November 19, 2015. Allen was the husband of Catharine B. Klepper Ertel with whom he shared 56 years of marriage. At the time of his death, they resided in Loyalsock Township.
2. Allen died at the Williamsport Regional Medical Center where he had been taken after suddenly collapsing as he started to walk back to his office at Park Place, following lunch at a nearby restaurant.
3. A memorial service was held at 1:00 p.m. on Saturday, November 28, 2015 at St. Luke's Lutheran Church in Williamsport with a long time friend, the Reverend Dr. John F. Piper, Jr., and Allen's pastor, the Reverend A. Elisabeth Aurand, officiating.
4. In addition to his wife, known to all in the community as Kay, Allen was also survived by their son, Edward B. "Ned" Ertel of Washington, D.C.; their daughter, Amy S. Ertel, of Jersey City, New Jersey; their five grandchildren, Alexander, Edison and Elainia Ertel, and Abraham and Sara Went. Allen was also survived by two sisters, Donna Spitler of Wooster, Ohio and Carmen Parks of Wilkes-Barre, PA. Allen was predeceased by a son, Taylor J. Ertel.
5. Allen was born on November 7, 1936 in Williamsport, the son of the late, Clarence V. and Helen A. Froehner Ertel. Allen graduated from Montoursville High School in 1954, where he lettered in basketball, baseball and football. He was an Eagle Scout. In 1947, Allen played for the Montoursville team in the first Little League World Series.
6. Allen attended Dartmouth College on a Navy R.O.T.C. scholarship graduating from its Thayer School of Engineering in 1958 and the following year from its Amos Tuck School of Business Administration with a Masters Degree in engineering and business.
7. Upon graduation in 1959, Allen and Kay were married and then Allen immediately reported to San Diego to begin active duty. He served Honorably in the United States Navy from 1959 to 1962, achieving the rank of Lieutenant.
8. On discharge from the Navy, Allen attended Dickinson School of Law for one year and then the Yale Law School, obtaining his law degree in 1965. Allen's law career began as a clerk for Chief Judge Caleb M. Wright of the Federal District Court for Delaware from 1965 to 1966. Allen then returned to Lycoming County to practice law, initially with the firm of Candor, Youngman, Gibson and Gault. His private law practice included multiple areas, however, utilizing his training as an engineer, he together with his good friend and partner, John C. Youngman, Jr., developed an expertise in products liability in airplane crash cases. In 1973, Allen opened his own office of Ertel & Kieser being associated with William S. Kieser until 1977. In his initial 10 years of practice, Allen became a well respected trial attorney.
9. A life long Democrat, Allen undertook a spirited campaign for Lycoming County District Attorney in 1967, his first full year of practicing law. Unexpectedly to some, Allen was elected District Attorney and served in that office from 1968 to 1977. As District Attorney, he earned a reputation as a hard working, straight laced, tough Prosecutor being well respected for his integrity as well as his success. Allen prosecuted numerous extremely difficult homicide cases without a loss, including the case arising from the slaying of Trooper Gary Rosenberger. Allen also prosecuted cases that were politically contentious, including an investigation and prosecution of members of the then Mayor John R. Coder administration. As District Attorney, Allen was highly regarded and well liked by the law enforcement officials with whom he worked and to whom he was very loyal.
10. Allen became the first Democrat to represent the 17th Congressional District of Pennsylvania in the 20th century when he surprisingly won the 1976 election to the 95th Congress. At that time, the 17th District was composed of Lycoming, Dauphin, Union and parts of Northumberland and Lebanon Counties, an area which had a significant Republican registration advantage. Overcoming what seemed initially an impossible task for a Democrat from Lycoming County by hard work and relentless effort, Allen defeated a well financed opponent. He was re-elected to the 96th and 97th Congresses. As a member of Congress, Allen served on the Public Works and Transportation and Science and Technology Committees. He supported the deregulation of the airlines and trucking industries. In addition, he worked diligently on behalf of Veterans and sought to make the Veterans Affairs Administration fiscally responsible. Allen's efforts to persuade the Army Corp of Engineers to agree to construct and fund a flood proof barrier under Interstate Route I-180 which was being built through Loyalsock Township between the Susquehanna River and the Golden Strip was a major accomplishment. As a result, this very important commercial area has been spared the disastrous effects of many floods.
11. Choosing not to return to Congress, Allen was the Democratic nominee for Governor in 1982. He conducted a vigorous campaign against popular incumbent Governor Richard Thornburgh, emphasizing job creation and reversing Pennsylvania's sluggish economy. Allen's tireless work together with a grass roots corps of volunteers known as "Ertel's Turtles" closed an initial 32 point deficit into a virtual dead heat in the final days before the election, with Allen ultimately losing by only 100,431 votes. Some believed Allen only needed one more day. Others viewed Allen's loss as being attributable to his integrity in refusing political bargaining with state Democratic leaders. Allen never made similar complaints.
12. Allen was again successful in obtaining the Democratic nomination for a statewide office, that of Attorney General in 1984. Again, as the underdog, Allen organized an effective statewide campaign losing the election to Leroy Zimmerman by 25,056 votes.
13. Although not victorious in the statewide campaign, the results he did achieve were remarkable accomplishments for a Lycoming County lawyer, especially a Democrat from a county that has less than 1% of the state's population.
14. Allen's quest for political office ended in 1989, a year in which he again won the Democratic nomination for a statewide office as he was nominated for the Supreme Court of Pennsylvania in a special election to fill a vacancy. Subsequent to the primary, the Pennsylvania Supreme Court, in what some termed a result orientated interpretation of the Pennsylvania Constitution, ruled the elections in that year for Supreme Court Justice to be invalid as it was not a municipal election year. Allen never issued any public criticism of the court's decision.
15. Allen's political vitality resulted in his becoming a visiting professor of Political Science at Bucknell University in 1983 and 1984. He was a super delegate to the Democratic National Convention in 1984. Throughout his life, Allen was a trusted advisor and financial supporter of many local Democratic candidates.
16. All through these political endeavors and offices, Allen continued to practice law although on a limited basis, resuming a full time practice of law in Lycoming County in 1984. Initially, he was associated with the Pittsburgh firm of Reed-Smith, but for the most part of his remaining life, he practiced in his own firm as Allen E. Ertel & Associates. Allen continued to conduct his legal work with a zealous representation of his clients, a negotiating stance that some would call stiff necked, and an unrelating tenacity for the cause he represented.
17. Unseen by many who were familiar with Allen's legal and political careers are Allen's business, humanitarian, and community preservation efforts.
18. Allen was a principal in many successful business ventures. Most notable among these was the firm Regscan which was among the first companies nationwide to offer a computer based method of allowing businesses to monitor and comply with Federal regulations which effected their operations. This company was formed in 1987 and continues today managed by his son, Ned.
19. Partnering with others, most frequently his friend William Brown, many of Allen's business interests such as Families United Network, New Foundations and Firetree Ltd., have promoted the welfare of children and, remarkably for a former prosecutor, the imprisoned. These entities provide a variety of services to families, especially children, such as foster care, group homes, residential care, adoption, drug and alcohol treatment, and re-entry services after incarceration. Allen and Kay also established the Taylor J. Ertel Foster Child Scholarship Fund in memory of their deceased son.
20. The work of Allen and William Brown in establishing Firetree Place, which began operations in 2015, at the former Community Center at 600 Campbell Street in Williamsport, has had a great humanitarian impact on our community. This location was also the site of the former Bethune Douglas Center. After making many building improvements which are still going on, Firetree Place began operations last summer. During the summer it provided 100 children with a day camp which served them three meals a day. During the school year, it is providing over 50 children with after school programs, dinner, homework help and a safe haven for other varied activities. In addition, it is providing many first time jobs for persons ages 14 to 24.
21. Allen's business interests have also correlated with his strong desire to rehabilitate and preserve older buildings, particularly those with historical and architectural significance. His projects have included the M.O.N.Y. Building at Northwest Market Square (since destroyed by fire) and rehabing the Williamsport Growers Market into office and warehouse space. Allen was active in the organization of Preservation Williamsport, especially with the Rowley House. Allen's most notable and beneficial project, however, was his investment with his partners Anthony Visco and William Brown in the restoration and preservation of the former Park Home. Together they literally saved this historically and architecturally significant structure from the wrecking ball. This complex is now known as Park Place. In addition to being the location of Allen's law offices and the offices of many of the other businesses, it is a sought after venue for many private and public events, as well as a popular tourist attraction.
22. Regardless of all these accomplishments, to his family and closest friends, Allen was most endeared for his generosity, unwavering devotion and love.
NOW THEREFORE BE IT RESOLVED that we, the undersigned Committee appointed by this Court, joined in by Lycoming County Bar, do hereby recognize the passing of Congressman, Allen E. Ertel, Esquire, and in his death we remember his many contributions to the citizens of Lycoming County.
BE IT FURTHER RESOLVED that in the passing of Allen E. Ertel, Esquire, there has been a loss to the Bar of Lycoming County of an outstanding member who brought respect and credit to this Bar as he represented and stood for the highest principles of legal profession; and, a loss to the community of a contributing valued and unselfish leader; and a loss to his family of a loving husband, father and grandfather; and, a loss to his friends and acquaintances of a political figure, businessman, humanitarian and friend.
AND, RESOLVED FURTHER that these resolutions and statements be spread at length upon the minutes of Your Honorable Court and copies thereof be sent to his children, grandchildren, great grandchildren and be published in the Lycoming Reporter.
Respectfully submitted,
George Bishop, Esquire
Robert B. Elion, Esquire
C. Edward S. Mitchell, Esquire
David C. Raker, Esquire
Robert C. Wise, Esquire
William S. Kieser, S.J., Chairman