In Memoriam: Charles Augustine Caffrey (1930-2018)
Posted on January 12th, 2018 at 12:00 AM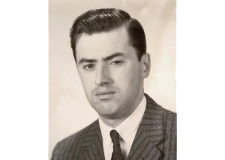 Charles Augustine Caffrey (1930-2018) a former member of the Lycoming Law Association, died on January 12, 2018. A memorial service was held on April 26, 2018.
The memorial resolutions memorializing the life of Attorney Caffrey read as follows:
In The Court Of Common Pleas Of Lycoming County, Pennsylvania
In Re: APPOINTMENT OF A COMMITTEE TO DRAFT RESOLUTONS IN THE DEATH OF CHARLES A. CAFFREY, ESQUIRE - NO. 18-00006
RESOLUTIONS OF COMMITTEE
TO THE HONORABLE JUDGES OF THE COURT:
The Committee appointed by your Honorable Court to prepare Resolutions concerning the death of Charles A. Caffrey, Esquire, reports as follows:
Charles Augustine Caffrey was born on August 15, 1930 in Plains Township, Pennsylvania He was the son of Anthony Michael and Josephine (Brady) Caffrey. Charles was known to most as Charlie.
Charlie grew up near the anthracite coal mines, and the colliery where his father worked as a young boy. His home and the neighborhood playground on Helen Street stood in the shadow of the colliery and a culm bank. He cherished his mother, his father, his brother, and his three sisters, all of whom were towering figures in his life. He was proud of his Irish heritage, but was a consummate American.
Charlie and the former Mary Alice Goobic started dating in 1950 on the day the Korean War broke out. Charlie and Mary Alice were married on July 2, 1953 and together they celebrated sixty-four (64) years of marriage. In spite of leaving his beloved Plains in the early 1950's, Charlie never lost his affection for the place, its history or its people. Charlie was the valedictorian of the 1948 graduating class of Sacred Heart High School in Plains Township (Wilkes-Barre, Pennsylvania). Charlie attended Wilkes University and graduated in 1952 with a BA in political science, becoming the first in his family to earn a four (4) year degree. Willie attending Wilkes, Charlie played on the college's hockey team.
After graduating from college, Charlie was drafted into the U.S. Army where he served in Army Intelligence until being honorably discharged in 1956. After his service in the military, he went to' work for the National Security Agency as an analyst during the height of the Cold War with the former Soviet Union. Charlie never spoke of what he did with the NSA other than to say he learned the Russian language.
While working at the NSA, Charlie enrolled in law school, attending George Washington University at night and graduating in three and one-half (3 1/2) years. As a law student, Charlie was on Law Review and passed the bar exam before earning his degree.
After graduating from law school in 1959, Charlie went to work for the National Labor Relations Board in Washington, D.C. It was at the NLRB that his love of labor and employment law blossomed. While at the NLRB, Charlie became the first President of the Union representing NLRB attorneys. Also during his time at the NLRB, Charlie spent two and one-half(2 1/2) years earning his LLM from Georgetown University in Washington, D.C., graduating in 1962.
In 1967, Charlie accepted a position at Stroehmann Brothers Baking in Williamsport, Pennsylvania. At that time, Stroehmann Brothers Baking was the country's largest independently owned wholesale baking firm. Charlie moved his family to Williamsport in 1967 and never considered leaving the area. He spent twenty-two (22) years with Stroehmann Brothers Baking, rising to the position of Vice President and General Counsel, negotiating many labor contracts, dealing with numerous strikes and labor stoppages, as well as many Union organizing campaigns. Professionally, Charlie loved nothing more than negotiating contracts with the Teamsters and Bakery and Confectionary Workers Unions. Throughout his life, Charlie maintained close relationships with union representatives, the foundation of which was the mutual respect built during marathon, good faith bargaining sessions. Charlie retired from Stroehmann as Senior Vice President and General Counsel in 1989 and entered private law practice where he spent the last eighteen (18) years of his working career. He took great pride in being a knowledgeable, experienced, and expert practitioner of his craft: labor and employment law.
Charlie was a fifty (50) year member of St. Boniface Catholic Church, was active in the West Branch Manufacturing Association and served on many labor management boards and committees. Charlie was an avid reader of all genres, especially historical and biographical works, as well as the classics. He also enjoyed hiking, mountain climbing, running and traveling, especially to Nantucket and Hawaii and, later in life, he enjoyed long walking tours in Europe.
Charlie passionately loved music, especially jazz, and especially loved playing his baby grand piano. He was also an avid, even legendary walker.
Charlie died January 12, 2018 at age 87.
Charlie's family has lost a beloved father and grandfather. Society has lost a contributing and exemplary member. The Lycoming Law Association has lost an excellent practitioner.
Your Committee recommends the adoption of the following Resolutions:
NOW THEREFORE BE IT RESOLVED, that we, the undersigned joined by the Lycoming County Bar, do recognize the passing of Charles A. Caffrey, Esquire, and recommend adopting the following resolutions.
BE IT RESOLVED, that in the passing of Charles A. Caffrey there has been a loss to the Bar of Lycoming County of an able and conscientious member who upheld and exemplified the highest tradition of the legal profession, a loss to the community of a valued participant, a loss to his family of a devoted, kind and loving father and grandfather, and a loss to his friends and acquaintances of a sincere and caring man.
BE IT FURTHER RESOLVED, that this Court and this Bar do hereby extend to Charlie's sons, Brian and his wife Angelique, Michael and his wife Tamara, and his grandchildren, Alayna, Anthony and Patrick, a deep and heartfelt expression of sympathy.
BE IT FURTHER RESOLVED, that this Resolution be spread at length upon the Minutes of the Court of Common Pleas of Lycoming County and that copies of the same be sent to Charlie's sons and grandchildren.
Respectfully submitted,
Thomas C. Marshall, Esquire - Chairman
Brian C. Caffrey, Esquire
Michael H. Collins, Esquire
Henry P. Perciballi, Esquire
Andree P. Phillips