In Memoriam: John C. Gault, Jr. (1917 - 2014)
Posted on May 18th, 2015 at 12:00 AM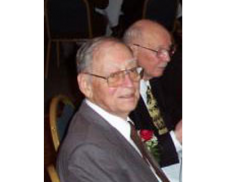 John C. Gault, Jr., a 66 year member of the Lycoming Law Association, died on October 26 2014. A memorial service celebrating his life and career took place on May 15, 2015.
Read the memorial resolutions, presented in court on May 15, 2018:
In The Court Of Common Pleas Of Lycoming County, Pennsylvania
IN RE: APPOINTMENT OF A COMMITTEE TO DRAFT RESOLUTIONS IN THE DEATH OF JOHN C. GAULT, JR., ESQUIRE, NO. 15-00004
RESOLUTIONS OF THE COMMITTEE
TO THE HONORABLE JUDGES OF THE COURT:
The Committee appointed by your Honorable Court to prepare resolutions concerning the death of John C. Gault, Jr., reports as follows:
John C. Gault, Jr. was born in Olean, New York on September 28, 1917. He was the son of John C. Gault, Sr. and Mary Emma Couling Gault. John was known throughout his life as Jack.
Jack grew up in Potter County, Pennsylvania and was a graduate of Galeton High School. Following high school, Jack attended Bucknell University and graduated in 1939 with a B.S. in economics. Jack then attended Dickinson School of Law and graduated with an LLB in 1942.
While in law school, Jack was accepted in the Federal Bureau of Investigation (FBI). He was given a delay of entry by J. Edgar Hoover to permit him to graduate from law school and take the Pennsylvania Bar exam. Jack passed the Pennsylvania Bar exam in 1942 and entered the FBI immediately thereafter. Jack served as a special agent on the west coast until 1946.
Jack came to Lycoming County in 1946 at the suggestion of his father who was a bank President in Mansfield and Coudersport.
Jack served a perceptorship under Joseph Keliher, father of Mary Keliher Gibbs-Smith, wife of Senior Judge Clinton W. Smith. Jack was admitted to the Pennsylvania Supreme Court on September 30, 1946. He was subsequently admitted to the Court of Common Pleas of Lycoming County in 1948 after serving a two year residency which was then a requirement even though Jack had grown up in adjoining Potter County. Other members of the Bar admitted on the same day were John Thomas, who relocated to Philadelphia, and George Williams, who relocated to Wellsboro. Jack was also admitted to the Federal District Court for the Middle District of Pennsylvania.
Jack married Katherine (Kay) Webb on November 27, 1940. Kay predeceased Jack on March 17, 2012. Jack and Kay raised two sons in Williamsport. John C. Gault, III, is a graduate of Williamsport High School, Yale University (B.A. 1966) and Harvard University (Ph.D. 1975). John has a career in the Middle East as a consultant to the oil and gas industry and resides in Switzerland with his companion Heidi Dixon.
Jeffrey A. Gault graduated from Williamsport High School and St. Lawrence University. Jeffrey is an owner/operator of Marking Services, Inc. which provides consulting services in OSHA pipeline compliance. Jeffrey lives in Milwaukee, Wisconsin and Naples, Florida with his wife, Cindy. They have one daughter, Lauren.
Jack began his practice with Joseph Keliher and then joined Candor, Youngman & Gibson, later Candor, Youngman, Gibson & Gault, where he remained for the remainder of his career. He practiced with John G. Candor, John C. Youngman, Harry R. Gibson, J. Neafie Mitchell, John C. Youngman, Jr., Allen E. Ertel, Ronald C. Travis, John M. Humphrey, John P. Pietrovito, Cynthia Ranck Person, Kevin Way, Peter White and Romaine Bastian.
Jack's career concentrated in real estate and industrial finance. He was instrumental in forming the Industrial Properties Corporation and the Lycoming County Industrial Development Authority which attracted industry to Lycoming County by making available favorable financing. The development of the Reach Road Industrial Park is largely the result of efforts by Jack, his partner Harry R. Gibson, and others. Jack served on the Williamsport Redevelopment Authority and the boards of the Saving Institution, First National Bank of Williamsport, the YMCA and Wildwood Cemetery Association. He served for 10 years as secretary for the Board of Directors of the Consolidated Sportsmen of Lycoming County. He was a past President of the Lycoming Law Association in 1971 and the Lycoming Day Nursery Center. He was past Master of Lodge 755 (F&AM Dietrick Lamade Lodge). Jack was a member of the LLA, the PBA and the ABA.
The Boy Scouts of America, Susquehanna Council (at the time, the West Branch Council) presented to Jack the Silver Beaver Award in 1973.
Jack was an avid outdoorsman whose many skills included: hunting, fishing, bee keeping, waterfowl carving, furniture building, skiing and golf.
Jack designed and built two cabins along the west bank of Loyalsock Creek, south of Farragut. He then designed his home which was built at the top of a high bank overlooking the Loyalsock Valley. The home was called Point of View.
Jack was an efficient practitioner. He moved rapidly. He kept himself in excellent physical condition. He enjoyed outdoor physical activities. He balanced his life between professional and personal activities.
When he was honored for 50 years of service to the Lycoming Law Association in 2003, he complimented the Williamsport Area School District for what he described as the excellent education received by his sons. He said he would not have changed anything in his career. He said he enjoyed raising his family in Williamsport. Jack was proud of his family and was a devoted husband and father.
Jack died October 26, 2014 at age 97.
Jack's family has lost a beloved father and grandfather. Society has lost a contributing and exemplary member. The Lycoming Law Association has lost an excellent practitioner.
Your Committee recommends the adoption of the following Resolutions:
BE IT RESOLVED that in the passing of John C. Gault, Jr., there has been a loss to the Bar of Lycoming County of an able and conscientious member who upheld and exemplified the highest tradition of the legal profession, a loss to the community of a valued participant, a loss to his family of a devoted, kind and loving father and grandfather and a loss to his friends and acquaintances of a sincere and caring man.
BE IT FURTHER RESOLVED that this Court and this Bar do hereby extend to Jack's sons, John and his companion Heidi, and Jeff and his wife Cindy, and granddaughter, Lauren, a deep and heartfelt expression of sympathy.
BE IT FURTHER RESOLVED that this Resolution be spread at length upon the Minutes of the Court of Common Pleas of Lycoming County, and that copies of the same be sent to Jack's sons and granddaughter.
Respectfully submitted,
John M. Humphrey
C. Edward S. Mitchell
John P. Pietrovito
Ronald C. Travis
Kevin Way
ORDER
AND NOW, this 15th day of May 2015, in consideration of the resolutions presented by the committee appointed to draft resolutions in the death of John C. Gault, Jr., the said resolutions are adopted and it is hereby ordered and decreed that the resolutions herewith submitted and attached be adopted as an official expression of the Lycoming County Law Association and this Court and that the same be spread upon the records of the Court and that copies of this resolution be delivered to the two sons of Mr. Gault, and it is further ordered and directed that the resolutions be entered at large upon the record of the Court and that it be printed in the Lycoming Reporter.
BY THE COURT
Nancy L. Butts, PJ