In Memoriam: Ronald C. Travis (1944 - 2017)
Posted on December 24th, 2017 at 12:00 AM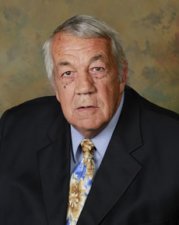 Ronald C. Travis, a 46 year member of the Lycoming Law Association, died on December 24, 2017. A Memorial service was held by the Court on May 11, 2018.
Read the memorial resolution presented in court on May 11, 2018:
In The Court Of Common Pleas Of Lycoming County, Pennsylvania
In Re: LLA BAR HISTORY MEMORIAL RESOLUTION RONALD C. TRAVIS

No. 18-00006
REPORT AND RESOLUTIONS OF COMMITTEE
TO THE HONORABLE JUDGES OF SAID COURT:
The Honorable Nancy L. Butts, President Judge of the 29th Judicial District of the Commonwealth of Pennsylvania, appointed the undersigned Committee to draft Resolutions memorializing the life of Ronald C. Travis, Esquire, and to submit the same to the Court at the memorial service to be held on May 11, 2018 at 3:30 p.m.
The undersigned Committee submits the following Resolution for your Honorable Court's consideration:
Ronald C. Travis, Esquire, a member of the Bar of this Court since 1971, died unexpectedly at his home in Williamsport, Pennsylvania on December 24, 2017. He was the husband of Pamela Lyon Travis with whom he shared 48 years of marriage.
In addition to his wife Pam, Ron was survived by his daughter, Kelli Lyon Travis, of Williamsport, and three grandchildren, Zachary Travis, Rory Peters, and Kenna Peters. His daughter, Leigh Stearns Travis, died at age 39 just two months prior to Ron's death.
Ron was born on June 11, 1944 in Punxsutawney, Pennsylvania, and was the son of John and Isabelle Anderson Travis.
Ron and his brother, John, were raised by their mother, with the family spending Ron's childhood years in Salamanca, New York and Olean, New York. As a young boy, Ron worked as a pin setter at a bowling alley. Beginning at age twelve, he began working in a traveling carnival, a summer job he continued to hold through his years in college and law school. The Travis family moved to Williamsport in 1960.
Ron graduated from Williamsport High School in 1962, from Lycoming College in 1967, and from the Dickinson School of Law in 1970.
Following law school, he served as a law clerk to the Chief Justice of the Pennsylvania Supreme Court, the Honorable John C. Bell, Jr., in Philadelphia.
Returning to Williamsport, Pennsylvania in 1971, Ron began the private practice of law as an associate with the firm of Candor, Youngman, Gibson & Gault. After a few years, he became a partner in that firm where he remained until he and a fellow partner, Jack Humphrey, left and joined the firm of Stuart, Murphy, Smith, Mussina, Harris & Rieders in 1982. Following various personnel changes, the firm name was changed to Rieders, Travis, Mussina, Humphrey & Harris. Over the years, various names were added or subtracted from the firm letterhead, but it was always known as the Rieders, Travis law firm. Ron remained a partner in the Rieders, Travis firm from 1982 until his death.
Ron Travis was a trial lawyer, and throughout his 46 years in private practice, he handled a wide variety of civil and criminal cases. His civil caseload included insurance defense work while with the Candor, Youngman office, and thereafter with the Rieders, Travis firm included motor vehicle accident cases, products liability, medical malpractice, Federal Tort Claims Act cases, prisoner civil rights cases, and others. Additionally, he maintained a large caseload of criminal cases, both as a privately retained attorney and court appointed counsel. Ron's civil and criminal trial practice took him to state and federal courts throughout Pennsylvania and beyond. He was admitted to, and handled appeals in, the Pennsylvania appellate courts, as well as the United States Courts of Appeals for the Second, Third and Fourth Circuits, and the United States Supreme Court. While he pursued cases in the common pleas courts of Lycoming County and numerous other counties, he was best known as a civil and criminal practitioner in the federal courts. In the United States District Court for the Middle District of Pennsylvania, he had been appointed or retained as counsel in over 150 federal cases.
Beginning in the mid-1990s, with the reinstatement of the federal death penalty in 1996, and the growing trend of prosecutors to pursue the death penalty in first degree murder cases, Ron developed an acute interest in representing defendants charged with first degree murder and facing the possibility of a death sentence. He was a committed and outspoken opponent of the death penalty, unable to understand why the government should kill a person for the purpose of establishing that murder is wrong.
Ron developed a national reputation for his work in capital murder cases, being appointed in eight such cases during the last 20 years of his practice and life. He was Death Penalty Qualified in Pennsylvania pursuant to Pa.R.Crim.P. 801, was deemed "Learned Counsel" in federal death penalty cases, and was a graduate of the Santa Clara Death Penalty College and the Clarence Darrow Death Penalty College.
Perhaps his best known client and case was United States v. David Hammer, which involved a prison homicide at the Lewisburg Penitentiary. Ron and his co-counsel tried this case in 1998 before Judge Malcolm Muir, and the result was a guilty verdict and death sentence. Over the next many years, numerous appeals were taken and the case became infamous among attorneys handling capital murder cases. Ron and his co-counsel never gave up their attempts to spare the life of their client, and in 2011 Mr. Hammer's death sentence was overturned. He was resentenced to life imprisonment in 2014, and remains alive today. Ron continued to represent Mr. Hammer in other matters, and was scheduled to travel to a federal correctional facility in Springfield, Missouri to see him on December 26, 2017, two days after Ron's death.
His civil clients also benefitted from Ron's legal talent and hard work. DeCarlo v. United States of America was a case brought under the Federal Tort Claims Act alleging negligence in the medical treatment of a federal prisoner. Following trial in 1992, the Court awarded Ron's client over $800,000 in damages, one of the nation's largest personal injury awards to an inmate in the federal corrections system.
Ron had a long history of service to the courts, fellow lawyers, and the organized bar. A member of the Pennsylvania Bar Association and Lycoming Law Association, he served as President of LLA in 1999. He made continuing legal education presentations for the Pennsylvania Bar Association, the Pennsylvania Criminal Defense Lawyers, the United States Attorney's Offices, the Federal Public Defender Office, and Life in the Balance. He was a member of the National Association of Criminal Defense Lawyers, the Pennsylvania Association of Criminal Defense Lawyers, and the Pennsylvania Trial Lawyers' Association. He was active in the Lycoming County Inns of Court. From 1972 until his death, he was a Criminal Justice Act Panel attorney and on the Membership Committee from 1997.
Ron was universally respected as a criminal and civil trial lawyer. His unparalled diligence and work habits made him a legend. He maintained a commitment to the law and to his clients second to none.
The Law was not the only field in which Ron Travis excelled. Appropriately nicknamed "Lefty" for his left-handed prowess, he was known throughout Lycoming County and beyond as an outstanding athlete.
After his family moved to Williamsport in 1960, as a high school junior he unsuccessfully attempted to make the Williamsport High School basketball team. Fortunately for him and many coaches and teammates thereafter, in the next year Ron grew six inches while playing basketball in the Men's League at the YMCA. He made the Williamsport High School team and started his senior year, and that 1961-62 squad won 21 games and the district championship.
During his four years at Lycoming College, "Lefty" started every basketball game for Coach Dutch Burch, and when he graduated in 1967, he was the leading rebounder in the history of the school and was second in total points scored. He earned first team All Middle Atlantic Conference accolades his last three years, was named MAC Northern Division Player of the Year as a Junior, and in 2013 was named to the MAC Century Team. He was a member of the inaugural Lycoming College Athletics Hall of Fame Class in 1986.
Ron continued playing basketball throughout his law school days and thereafter, and was the captain of numerous semi-pro teams which competed in leagues and tournaments throughout Pennsylvania and the surrounding states. His 1971 Lancaster YMCA team won the national YMCA championship. He was recognized as an outstanding shooter and rebounder, and regularly scored 30-50 points in league and tournament games. In one game he scored 82 points against a team with numerous college basketball players, and, in another tournament, he scored 54 and 63 points in back-to-back games against teams with several all-star college players and future basketball professionals. During the early 1970s, Ron's teams were traveling to basketball games every weekend from December through April, throughout Pennsylvania and adjacent states. While a serious knee injury in 1976 slowed his basketball career somewhat, he continued to captain teams on the tournament circuit until 1990, and thereafter played locally in Williamsport at the Salvation Army and the Ohev Sholom Synagogue courts.
His knee injury also resulted in Ron's taking up tennis as part of his rehabilitation, and like all other things that he attempted, he excelled in that sport. Again, he traveled to tournaments throughout Pennsylvania and beyond and regularly won doubles tournaments with his regular partner, Doug Kohler, and 35-and-over singles events. Beginning in 1991, he began entering national events sanctioned by the United States Tennis Association, and at age 50, made it to the quarter finals in a national 50-and-over clay court event. He played in local, regional, and national tennis tournaments until he had a hip replacement in 2005, and thereafter played locally where he was well-known as a fierce competitor with a wicked serve.
In recognition of his excellence as a basketball and tennis player, Ron was inducted in the West Branch Valley Sports Hall of Fame in 2000.
Ron Travis was a devoted husband, father and grandfather. For years he coached softball and basketball teams of his children and grandchildren and, honoring his many years working in the carnival, loved taking his kids to almost every carnival coming to the Williamsport area. He treasured the family's annual winter trips to Cayman Island.
NOW, THEREFORE, BE IT RESOLVED, that we, the undersigned, joined in by the Lycoming County Bar and the Lycoming Law Association, do hereby recognize and mourn the passing of Ronald C. Travis, Esquire, and recognize and remember him as an excellent civil and criminal trial lawyer who devoted his professional life to protecting the Constitutional rights of the poor and underprivileged; as an attorney who represented and stood for the highest principles of the legal profession; as a colleague who served as an example to and mentor and teacher of young lawyers who were willing to represent indigent criminal defendants; as an athlete who extended this pursuit of excellence to every endeavor he undertook; and as a strong and quiet man who was loved, honored and respected by his family, his partners, his clients, and all those who were privileged to be a part of his life.
AND BE IT RESOLVED FURTHER, that these Resolutions and statements be spread at length upon the Minutes of the Court with copies to the family of Ronald C. Travis, Esquire, and be published in the Lycoming Reporter; and
BE IT RESOLVED FINALLY, that this Court, the Lycoming County Bar, and the Lycoming Law Association, extend to Ronald C. Travis's wife, daughter, and grandchildren, our deep and heartfelt sympathy, and our great respect for Ronald C. Travis, Esquire.
Respectfully submitted,
John M. Humphrey, Esquire, Chairperson
Dudley N. Anderson, Senior Judge
Clifford A. Rieders, Esquire
E. J. Rymsza, Esquire
Toni Byrd, Esquire
Geoffrey Ayers, Esquire