HISTORICAL SKETCHES
of the Bench and Bar of Lycoming County, Pennsylvania
[Contents] [Last-Part 7] [Next-Part 9]
---
Judges of the United States District Court For the Middle District of Pennsylvania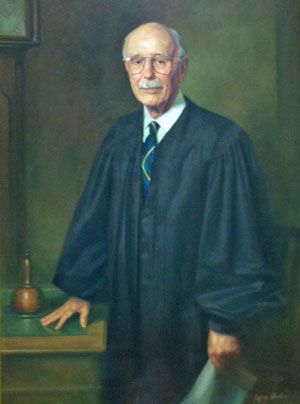 Malcolm Muir was born October 20, 1914, in Englewood, New Jersey. He died on July 22, 2011, at The Gatehouse, Divine Providence Hospital, after suffering a stroke three days earlier, while working in his office at the United States Courthouse, Williamsport, Pennsylvania.
His father, John M. Muir, was a dentist, and his mother, Elizabeth Stabler Muir, was reared on a farm near Salladasburg, Lycoming County, Pennsylvania. The family moved to Williamsport in 1916.
Judge Muir graduated from the Williamsport High School in 1931, from Lehigh University in 1935 with a Bachelor of Arts degree in philosophy, and from the Harvard Law School in 1938 where he received his L.L.B. degree.
He returned to Williamsport, Pennsylvania where, pursuant to local rules, he was required to serve a preceptorship of three months before the bar exam, and six months following. He received notice about passing the bar exam on or about October 3, 1938, and, having found an error in the local rules which permitted him to be admitted to the bar immediately and skip the six month preceptorship, he was admitted to the bar and began his law practice in the fall of 1938, sharing offices with John C. Youngman, Sr., a member of the Bar.
By 1940, having increased his gross income to $2,200 the previous year, he married Alma Brohard who did his secretarial work at their home. Judge and Mrs. Muir ultimately had five children and were married for 45 years until her death in 1985.
In 1942, he applied for and received a commission as an Ensign in the United States Navy. After serving several months in Navy Intelligence, he was transferred to the Armed Guard where he served as officer in charge of 20-30 Navy gunners whose duty it was to provide protection to Merchant Marine vessels. During his years in the Navy, he saw service upon ships sailing in the North Atlantic, the Pacific, the Indian Ocean, the Persian Gulf, the Mediterranean, and the Caribbean Sea.
For his first assignment, Judge Muir volunteered to serve on a troop ship, the SS Booker T. Washington, the first Merchant Marine vessel with an African-American Captain and an integrated crew. He also served as the naval officer in charge of Navy gunnery crews on two tankers, the Sinclair HC and the Carlton Ellis. While serving aboard these Merchant Marine vessels, Judge Muir taught himself celestial navigation and thereafter always plotted his ship's position several times each day. In one large convoy which was enshrouded by fog for days, he had the latest position of any navigator, a running fix based on momentary sightings by sextant of the sun and Jupiter.
At the end of World War II, he separated from the service and returned to Williamsport in December 1945 where he resumed his law practice.
He and his family moved to Muncy, Pennsylvania, in 1947 and, from 1951 through 1982, resided in a beautiful old home, Rose Hill, which had been built in 1820. In 1982, Judge and Mrs. Muir moved to Williamsport and lived in a home on Grampian Boulevard where Judge Muir remained until his death.
Upon his return to the practice of law following World War II, Judge Muir's practice consisted primarily of estate work. When a wealthy client from Punxsutawney, Pennsylvania died, it became necessary for him to resolve various federal estate tax issues. Thereafter, his practice consisted primarily of estate work and estate tax matters. He became known statewide as one of the foremost experts in federal estate tax issues. His article, "Marital Deduction Tax Traps," was published in the Pennsylvania Bar Association Quarterly in 1961, and thereafter was relied upon and referenced by the Pennsylvania Supreme Court as the leading authority on this difficult area of federal estate taxation.
In 1949, Judge Muir became a partner in the Williamsport law firm of Furst, McCormick, Muir and Lynn. He remained with that firm and its successors until 1968, when he left and became associated with Joseph L. Rider, with whom he practiced until his elevation to the federal bench in November 1970.
He was a member of the governing boards of numerous local institutions including Christ Church, the Muncy School Board, the Park Home, the Salvation Army, and the Red Cross.
At the time of his death, Judge Muir was the oldest and longest tenured member of the Lycoming Law Association. He served on the Executive Committee of the Lycoming Law Association for many years and as its President in 1954. He was active in the Charles F. Greevy, Jr., American Inn of Court from its inception in 1997, and until his death was the Master of the "Muir Team" in its planning and presentation of programs for Inn members. He was a routine fixture at all Lycoming Law Association events.
In 1946 he recognized the need for members of the Lycoming County Bar to have access to opinions by the judges of the Lycoming County Court of Common Pleas, and began circulating to members of the Bar copies of opinions, with headnotes, mimeographed in his office at his own expense. In 1949, the Court recognized this publication as the official legal periodical for Lycoming County. This weekly publication became what is known today as the Lycoming Reporter, and began including paid advertisements and legal notices required by law. Judge Muir served as the first editor of the Lycoming Reporter for nearly 20 years. The income received by the Lycoming Reporter has long been the main source of revenue for the Lycoming Law Association and has permitted the Association to greatly expand its offerings to the Bar and to employ an Executive Director. It is estimated that the Lycoming Law Reporter has brought in revenue approaching $1 million.
Judge Muir was also extremely active in the Pennsylvania Bar Association, was a member of the Board of Governors of that Association for five years, and was elected the organization's first individual treasurer. He then was elected Vice President of the Pennsylvania Bar Association and, at the time of his appointment to the bench, was the President-elect scheduled to assume the presidency on January 1, 1971. He was unable to assume the presidency because of his judicial appointment. Judge Muir was one of seven PBA members serving on a blue ribbon committee which formed the Pennsylvania Bar Institute, the nation's leading provider of continuing legal education.
In 1970, President Richard M. Nixon nominated Malcolm Muir to become a United States District Judge for the Middle District of Pennsylvania and, following confirmation by the United State Senate, he was sworn in as United States District Judge on November 6, 1970. Noting that his judicial commission was signed by President Nixon and countersigned by Attorney General John N. Mitchell, Judge Muir often observed, with a twinkle in his eye, that despite their faults, these men were exceptional judges of character.
Judge Muir was the first judge from the Middle District of Pennsylvania to be appointed to the Judicial Council of the Third Circuit and during his many years of service on that Council he was the only judge who was not chief judge of a district. For years he served on a subcommittee of the Judicial Conference of the United States, among whose functions was the automation of the federal courts.
At the time of his appointment to the bench in 1970, the federal court system was experiencing significant backlogs of cases as the number of new filings had, for many years, exceeded the number of cases which were brought to conclusion. Long delays in the disposition of cases were commonplace, with such backlogs caused by inadequate case management, increased discovery and discovery abuse, and a local legal culture whereby attorneys followed customary practices in prosecuting and defending cases. Far too few federal judges were engaged in the hard work of changing the way lawyers and courts processed the increasing number of cases filed in the nation's courts.
Judge Muir committed himself to improving the federal judicial system, and from the beginning of his tenure in 1970, he came to be recognized as a pioneer in the efficient management of cases filed in the federal courts. His case management methods and numerous innovations, applied to cases from the time of filing through ultimate disposition, have served as models to courts throughout the federal judicial system, and the state court systems, as they sought to find solutions to the problems of efficiently handling exploding caseloads while maintaining standards ensuring equitable disposition of the myriad of issues which these cases present.
Among the methods and innovations utilized by Judge Muir were the scheduling of trial and the various pretrial deadlines at the time of initial filing of a civil case; the issuance of a practice order which governed all aspects of pretrial and trial procedure; mandatory meetings of counsel to identify trial issues and to jointly work out solutions if possible; trailing trial lists which eliminated delays between the end of one case and the beginning of another; jury selections on one day for all cases on a list; bifurcated trials with separate consideration by the jury of liability and damages issues; the use of special verdict questions instead of general verdicts; alternative dispute resolution techniques such as non-binding summary jury trials; and many other practices new to the court litigation system. Many provisions of Judge Muir's practice orders ultimately were adopted as the Local Rules of the United States District Courts for the Middle District of Pennsylvania, and served as a model to other courts and court systems seeking to modernize and make more efficient the management of cases. His innovations also extended to criminal cases where he began the practices of pre-sentencing conferences, uniform sentencing for the various categories of criminal charges, and the careful explanation of reasons for particular sentences.
The institution of these multiple reforms engendered great resistance from the organized Bar which was reluctant to change practices of old. Despite this resistance and frequent criticism, Judge Muir remained committed to his principles and to the reforms which he instituted. Ultimately, lawyers came to respect the system and to realize that conformance with the many requirements imposed by Judge Muir resulted in significantly better prepared cases, and more efficient, and fair, trials in those cases.
Judge Muir was also known for the great respect which he gave to individuals summoned to serve, or potentially serve, as jurors in cases assigned to him. He conveyed to the jury the great importance of the proceedings in his courtroom, and the necessity of following the law even if they disagreed with it. He attempted, and often was successful, in memorizing the name of every juror in a particular jury pool, and adopted practices which minimized the wasting of jurors' time. Anyone who served in Judge Muir's courtroom had only positive experiences to report.
Over the years, he presided over several major civil and criminal cases. His very first trial, just months after his appointment, was a difficult and lengthy trial of several inmate defendants accused of mutiny and riot at the Lewisburg Federal Penitentiary. In Jordan v. Arnold, a class action brought by Lewisburg Penitentiary inmates alleging inhumane conditions in the segregation unit, he ordered the prison authorities to institute and maintain numerous improvements to the facilities and procedures applicable to the inmates. Four years later, he held the warden of the Lewisburg Penitentiary in contempt of court for failing fully to comply with his order. In United States vs. Gleneagles, a bench trial which lasted 120 trial days, he issued three major opinions in this landmark case on the subject of leveraged buy-outs. He also presided over numerous major criminal cases, including the political corruption case against Pennsylvania Treasurer R. Bud Dwyer and other high political figures.
Consistent with his patriotic service to his country in war and as a federal judge, and his great pride in the United States of America, Judge Muir found particularly meaningful the swearing in of new naturalized citizens. For many years he presented each new citizen at the swearing in ceremony with a copy of the United States Constitution which he inscribed and provided at his own expense.
In 1985, he assumed senior judge status but continued with a near full caseload. In the last two years prior to his death, because of failing hearing, he ceased conducting trials but took on the job of handling all of the Social Security disability appeals for the entire District.
In 2008, Lycoming College awarded to Judge Malcolm Muir the honorary degree of Doctor of Laws, for his lifetime of service to this community and to his country.
Over his years on the bench, Judge Muir brought to Williamsport 30 young men and women who served as his law clerks. Most of these clerks served two year terms, though in the later years he had two clerks, George Smeal and Geoffrey Ayers, who served as his clerks for 17 and 11 years respectively. All of his law clerks learned invaluable lessons about federal practice and procedure generally and, more importantly, how to conduct themselves as lawyers with honor and professionalism. All went on to successful legal careers in private and public service practices. His first clerk, Stewart Kurtz, is now a Common Pleas Judge in Huntingdon County, while Rick Mirabito, who first came to Lycoming County as Judge Muir's clerk, is currently serving as State Representative for the 83rd Legislative District, Lycoming County. Every five years, beginning in 1975, Judge Muir hosted his Law Clerk Quinquennial Dinner. The Eighth Quinquennial dinner in 2010 was attended by over 20 former law clerks from around the country, and, of course, by his secretary of 42 years, Sharon Eckman, upon whom Judge Muir heavily relied.
Judge Muir had a keen sense of humor and was always ready with a hearty laugh and a humorous story of his own. He was a reasonably accomplished pianist and composed numerous piano pieces in honor of various friends and family members. To his personal life he brought his ability to organize, systemize, and keep records of life's little details, and he delighted in explaining to all who showed interest his systems, formulas, and record books.
At the time of his death, Judge Muir had served in excess of 40 years as a United States District Judge, and was the third oldest federal judge in the country.
He was preceded in death by his wife, Alma, and his daughter, Barbara Muir.
Surviving are three sons and a daughter: Malcolm Muir, Jr., Thomas Muir, Ann Muir, and Clay Muir; five grandchildren; and five great-grandchildren.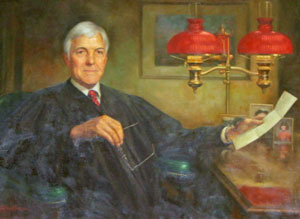 James F. McClure was serving in his first term as President Judge, Court of Common Pleas for the 17th Judicial District of Pennsylvania, Snyder and Union Counties, when he was nominated by President George H.W. Bush on January 24, 1990, to a seat on the United States District Court for the Middle District of Pennsylvania vacated when Judge William J. Nealon assumed Senior status. He was confirmed by the Senate on April 27, 1990, and received his commission on April 30, 1990.
Judge McClure was born in 1931 in Danville. He died on Friday, Dec. 17, 2010, at the Geisinger Medical Center, Danville, at age 79.
Judge McClure graduated from Lewisburg Area High School as valedictorian of the Class of 1948. He then graduated magna cum laude and Phi Beta Kappa from Amherst College in 1952. He served nearly two years in the Army as a guided missile electronics instructor at Redstone Arsenal, Huntsville, Ala. Graduating cum laude in 1957 from the University of Pennsylvania Law School, McClure was a member of Order of the Coif, and the editorial board of the Law Review.
Following law school, Judge McClure was employed with the Legal Advisor's Office of the United States Department of State in Washington, D.C., the Philadelphia law firm of Morgan, Lewis & Bockius, and Merck & Co., Inc.
In 1965, Judge McClure returned to Lewisburg to enter into the private practice of law with his late father, James F. McClure. He and Terry W. Light, Esquire, were associated in the practice of law in Lewisburg from June 1977 to May 1984, when Judge McClure was appointed to the Court of Common Pleas of the 17th Judicial District, comprised of Snyder and Union Counties. In 1985, he was elected to a 10-year term. Peter Johnson, Union County District Attorney, was Judge McClure's first law clerk.
Judge McClure was was sworn into office as United States District Judge on May 7, 1990. Judge McClure elected senior status in April 2001. He was stationed in Williamsport where he served as a senior judge.
He completed seven years of service as a member of the Code of Conduct Committee of the Judicial Conference of the United States, having been appointed to that position by the Chief Justice of the United States in 2001.
Prior to becoming a judge, Judge McClure served as District Attorney of Union County and as President of the Lewisburg Area School Board for six years. He was also a member of the House of Delegates and Board of Governors of the Pennsylvania Bar Association, the Pennsylvania Appellate Court Nominating Commission, and the Pennsylvania Supreme Court Advisory Committee on Appellate Court Rules.
He was a member of the First Presbyterian Church of Lewisburg, where he served several terms on the Board of Trustees and Session, and sang for more than 45 years in the choir. He was also a member of the Bucknell University Golf Club and sang tenor for 34 years in the Susquehanna Valley Chorale.
Judge McClure resided in Lewisburg with his wife, Betty Lou, to whom he was married for 58 years. He was survived by 5 children; 14 grandchildren; and one great-grandchild.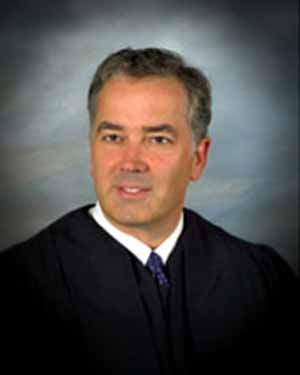 Judge John E. Jones III commenced his service as a United States District Judge on August 2, 2002. He is the 21st judge to sit in the Middle District of Pennsylvania. Judge Jones was appointed to his current position by President George W. Bush on February 28, 2002, to a seat vacated when Judge McClure assumed Senior status. He was unanimously confirmed by the United States Senate on July 30, 2002, and received his commission on July 31, 2002.
John E. Jones was born in Pottsville, Pennsylvania in 1955. He attended Dickinson College, graduating with a Bachelor of Arts degree in 1977. Continuing his education in Carlisle, Pennsylvania, he graduated from Dickinson School of Law with a Juris Doctor degree in 1980.
In 1980 Judge Jones began his legal career as a law clerk to the President Judge of Schuylkill County, the Honorable Guy A. Bowe from 1980 to 1984. Subsequently, Judge Jones joined the firm of Dolbin & Cori, and upon his achieving the status of partner, the name of the firm was changed to Dolbin, Cori & Jones. In 1986, Judge Jones formed his own law firm, John Jones & Associates, where he continued to practice until the time of his elevation to the federal bench. During a career as a trial lawyer which spanned nearly twenty-two years, Judge Jones represented thousands of clients from all walks of life. He was an experienced litigator, practicing in state and federal tribunals across Pennsylvania. He served as solicitor for several municipalities, including the city of Pottsville, Pennsylvania. Judge Jones also served as a part-time assistant public defender for Schuylkill County, from 1984 to 1995. For the last ten years of his practice, Judge Jones served as counsel to the Reading, Pennsylvania based law firm of Roland & Schlegel.
Prior to taking the bench, Judge Jones had numerous public and private affiliations. These included service as a member of the Board of Directors of the Union Bank and Trust Company of Pottsville, state attorney for the D.A.R.E. program (Drug Abuse Resistance Education), and chairman of a local foundation which awarded scholarships to high school students based upon vocal music ability. He has served as an Assistant Scoutmaster, and has been extensively involved with both the local and national Boy Scouts of America.
In 1992 John Jones was an unsuccessful candidate for Congress, losing a close election to Congressman Tim Holden. It is a testimonial to the respect that Judge Jones maintains in the community, that his former political opponent Congressman Holden introduced him as a friend, to the Senate committee considering his confirmation to the federal bench, and reported the bipartisan support of Judges and the District Attorney in his home County of Schuylkill.
In November, 1994, Pennsylvania Governor-elect Tom Ridge named Judge Jones as a co-chair of his transition team. Subsequently, in May 1995, Governor Ridge nominated Judge Jones to fill a vacancy on the Pennsylvania Liquor Control Board, which is the largest state liquor monopoly in the United States. After his unanimous confirmation by the Pennsylvania State Senate, Governor Ridge appointed Judge Jones Chairman of the Board. Judge Jones served as Chairman of the Pennsylvania Liquor Control Board for a total of seven years and two months, until he assumed his current duties. During his tenure on the Liquor Control Board, Judge Jones implemented substantial changes in liquor licensing procedures which were designed to both streamline and shorten the process. These included use of the internet to apply for and renew liquor licenses. He managed a workforce of over four thousand people, and administered a budget in excess of one billion dollars. Judge Jones also gained national attention in the area of alcohol education, with particular emphasis on underage drinking at college campuses, as well as drunk driving. In November 2000, Judge Jones' contributions were recognized when he received the Government Leadership Award from the National Commission Against Drunk Driving in Washington, D.C. At the time of his appointment to the bench, Judge Jones was a board member, and president-elect, of the National Alcohol Beverage Control Association (NABCA).
Among other honors received by Judge Jones have been the Distinguished Alumnus Award from the Dickinson School of Law, and the Welsh Citizen of the Year Award from the St. David's Society of Schuylkill and Carbon Counties.
Judge Jones resides in his native Pottsville, and has been married to his wife Beth Ann since 1982. They are the parents of daughter Meghan, and son John.
Judge Jones briefly maintained chambers in Williamsport, before moving to Harrisburg.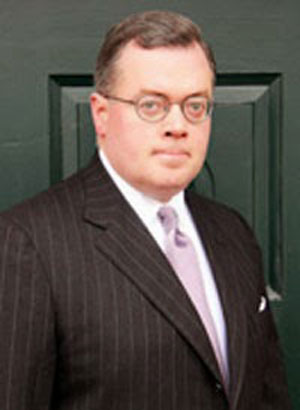 On May 17, 2012, President Obama nominated Matthew W. Brann to be a United States District Judge for the United States District Court for the Middle District of Pennsylvania, to the seat vacated by Judge Thomas I. Vanaskie who was elevated to the United States Court of Appeals for the Third Circuit in 2010. The Senate Judiciary Committee held a hearing on his nomination on June 27, 2012, and reported it to the floor on July 19, 2012. The Senate confirmed his nomination by unanimous consent on December 21, 2012. He received his commission on December 27, 2012. Brann entered on duty as a United States District Judge on January 17, 2013.
Judge Brann was born in Elmira, New York on July 25, 1965. He received his Bachelor of Arts degree in 1987 from the University of Notre Dame. He received his Juris Doctorate in 1990 from the Dickinson School of Law.
From 1990 to 1991, he served as a law clerk in the Court of Common Pleas in Bradford County, Pennsylvania. He became an associate at Brann, Williams, Caldwell & Sheetz in 1991, becoming a partner at that firm in 1995. He also spent years as a Republican party official in Pennsylvania. In private practice, he focused on tort, contract, commercial and real estate litigation.
He sits at the United States Courthouse and Federal Building in Williamsport, Pennsylvania.
[Contents] [Last-Part 7] [Next-Part 9]