Consumer Alert - Unnecessary Recorded Deed Notice
Posted on November 14th, 2016 at 12:00 AM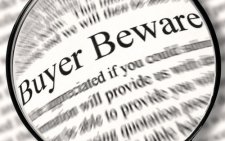 Real Estate Lawyers Warn Consumers
"Recorded Deed Notice" a costly and unnecessary service - Update, November 15, 2016
It has come to the attention of our committee that purchasers of real estate in Lycoming County continue to receive a document called a "Recorded Deed Notice." Currently, the notices are being sent from a company in California. They have come from other companies and states in the past. This notice offers to obtain for the landowner a copy of their Deed and also to provide a "property assessment profile."
The company offers this service in return for a processing fee of $83. Most of the items promised in the "property assessment profile" are readily available from the county assessment office. It is certainly not necessary to use any outside service in order to obtain a copy of a Deed.
Within approximately four weeks of a real estate transaction, the original Deed, having been recorded at the courthouse, is typically provided to the landowner by the lawyer who conducted the closing. Furthermore, there is generally not a need for the owner to present the original Deed or to have a certified copy of a Deed. In the event that the original is lost, a copy of a Deed can be made at the courthouse for 50¢ per page. This typically costs $2 or less, since most Deeds are less than four pages long.
We recommend that people ignore the "Recorded Deed Notice" if they receive one.
LYCOMING LAW ASSOCIATION REAL ESTATE COMMITTEE
Fred A. Holland, Chair