Nicole Ippolito Announces Candidacy for Lycoming County District Attorney
Posted on January 28th, 2019 at 10:41 PM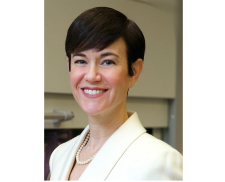 Nicole Ippolito, an Assistant District Attorney in the Lycoming County District Attorney's Office, announced her candidacy for Lycoming County District Attorney.
Ippolito graduated from Rutgers University where she received a Bachelor's of Science degree. After working for the U.S. EPA and the International Asbestos Testing Laboratory, she attended and graduated from Rutgers Law School. While in law school, she volunteered for the domestic violence pro-bono program and interned for a Federal Magistrate Judge.
Upon graduation, Nicole clerked for a criminal judge in Burlington County, N.J. Upon completion of her clerkship, she was asked to join a criminal defense firm practicing mainly in Trenton, Camden, and Burlington, New Jersey. After three years, she joined a firm where the concentration was on federal criminal matters along with civil, family, and local criminal law cases.
In 2012, Ippolito moved to Williamsport and worked as a Lycoming County Assistant Public Defender until 2013. In this capacity, she defended cases ranging from possession of marijuana to attempted homicide. During the course of her criminal defense career in both N.J. and PA, she tried several cases that included an armed bank robbery, indecent assaults, and attempted homicide.
In 2013, Ippolito accepted a position with the Lycoming County District Attorney's Office. Working with law enforcement officers in the DA's Office, she prosecuted cases involving DUIs, aggravated assaults, drug and gun offenses, and homicides. Ippolito is a firm believer in the Second Amendment and is a member of the NRA.
Responsibilities of the ADA include approval of all felony charges and search warrants before they are filed. Litigating a wide array of motions and arguing sentencing issues occur on a weekly basis. Ippolito was sent to Leadership Training for Prosecutors and received training for capital cases.
With a focus on drug cases, Ippolito works closely with members of the Pennsylvania State Police Vice/Narcotics Unit and the Lycoming County Narcotics Unit. She also maintains a close working relationship with members of the Pennsylvania State Police federal task force officers and with the federal prosecutors. Relative to drug investigations, she completed one of the most prestigious undercover narcotics trainings in Pennsylvania, Top Gun. She has also assisted in the investigations and potential prosecutions of the only drug delivery resulting in death matters in the Lycoming County DA office during her employment. Since these matters are so difficult to prosecute without an in-depth investigation that must start from the moment the deceased is found, she has been working to create a task force to address these matters.
With a six-year tenure in the district attorney's office, she has a strong understanding of how the office works, the great responsibility that it entails, and the daily details that need to be addressed.
Ippolito volunteers as a representative from the DA's office for:
- The Domestic Violence Fatality Review Team
- The Domestic Violence Task Force
- The Mental Health Forensic Review Team
- The Lycoming County Health Improvement Coalition
These teams and coalitions monitor and assist the community at large on a variety of preventative measures and assistance to all members of Lycoming County with mental health, physical health, children's safety, rural health, and more. Many of these meetings occur outside of business hours.
Outside of the office, Nicole volunteers for several other groups:
FireTree Place Sports Events with Law Enforcement

The Lycoming County Health Improvement Coalition / Safe Kids

Board member for the YWCA and sub-committee member for Wise Options

Big Brothers Big Sisters Board

Member of the Lycoming County Women's Republican Group, current First Vice President.

Participant in the Annual Wills for Heroes

Member of the Williamsport Kiwanis

The Montoursville High School Mock Trial Team Attorney Coach.
"Thus far I have been so encouraged by the overwhelming support of everyone that I have spoken to about my campaign to become District Attorney. I volunteer because I want to give back to the community that has brought me so much happiness. Being dedicated to keeping the citizens of Lycoming County safe is evident in the hard work that I continually put into prosecuting cases whether it be during work hours or on my own time. My goal is to continue to enhance Lycoming County by being an involved citizen and an experienced prosecutor who is tough on crime," Ippolito.