Nine Attorneys admitted to practice in Lycoming County
Posted on December 6th, 2018 at 8:15 PM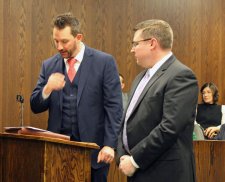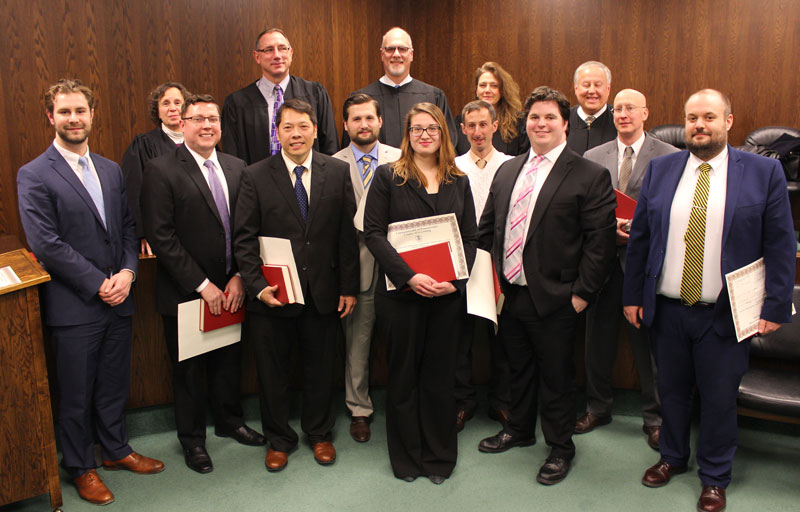 In a ceremony that is steeped in history, the Lycoming County Court, on December 6, admitted nine attorneys to practice before the "Several Courts of the Court of Common Pleas of Lycoming County." Although the ceremony was conducted in a formal manner, it has no legal significance. Unlike the era before state-wide practice was approved, the local court cannot control the ability of attorneys to appear in court.
Legal significance or not, the well attended ceremony had a well intended purpose - to introduce new attorneys to the court and to the bar, and for the court and bar to welcome these attorneys to friendly association of lawyers that is about to celebrate its 150th year. The celebration culminated with a reception at the Old Corner Hotel where old and new friends mingled.
First to be moved for admission was Eric L. Birth, a new member of the Public Defender's staff. He was moved by Matthew Welickovitch. Although Eric attended College in California and law school in Miami, he has local connections to Danville, where he grew up.
District Attorney, Ken Osokow next introduced Neil Devlin, a new assistant district attorney. Devlin grew up i the Harrisburg area, and attended college and law school at the University of Pittsburgh.
Bryan Carl Fitzcharles has joined the Zeigler and Associates. Matt Zeigler introduced Bryan to the court and indicated that he sill be practicing in in the domestic relations area.
Ken Osokow moved the admission of a second new assistant district attorney, Aaron M. Gallogly. He obtained a BA from the University of Michigan and studied law at Duquesne and Michigan.
Howard B. Gold will also be joining the Zeigler law firm and his admission was also introduced by Matt Zeigler. Howard attended SUNY at Binghamton for his undergraduate degree and Widener University Delaware Law School.
A second public defender was admitted. Jon P. Higgins was also moved by Matthew Welickovitch. Jon is a graduate of Truman State and Ohio Northern School of Law.
New admittee Kevin M. Packer is Judge Butt's new law clerk. He is a a graduate of the University of Pittsburgh and Widener University Delaware Law School. Laurel Fox moved his admission.
Bar President, Jennifer Heverly moved the admission of Lindsay M. Walker, a new Legal Services attorney. She graduated from The Pennsylvania State University, Dickinson School of Law and Binghamton University.
The final admission was of Daryl A. Yount. he is working at McNerney Page and his admission was moved by Mike Collins. Daryl is a graduate of Messiah College and Widener University School of Law.
Kathryn L. Probst, Deputy Prothonotary, then administered the oath. Welcoming remarks by Judges Gray, Linhardt, McCoy, Lovecchio and Butts followed.
Law Association President Heverly welcomed the new members and gave them a gift of the Historical Sketches of the Bench and Bar Of Lycoming County. Corey Mowrey encouraged the new attorneys to join both the Young Lawyers Division and the Inns of Court.
Tom Waffenschmidt discussed the merits of the LLA Foundation. John Pietrovito encouraged pro bono work and provided the attorneys with a letter listing the opportunities to volunteer.
The Lycoming Law Association welcomes our new members wishes them well in their new positions.
Additional Photos