Bluth Elected President of Federal Bar Association
Posted on November 21st, 2019 at 10:24 PM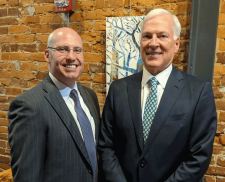 At the annual reorganization meeting of the Middle District of Pennsylvania chapter of the Federal Bar Association, LLA member Brian Bluth was elected to a one year term as president. The meeting took place in courtroom 1 of the Federal courthouse in Williamsport on November 21, 2019.
Following the election, Chief Judge Christopher C. Conner administered the oath to the new officers, Bluth, Jonathan Koltash, Michael O'Donnell and Casey Coyle.
The meeting came after an excellent CLE presentation by Magistrate Judge Martin Carlson, Robert DeSousa and Professor Michael Dimino entitled "The Legal Process of Impeachment and the History of Judicial Impeachment in the Middle District."
The night concluded with a reception at Barrel 135.