Family (Law) Feud
Posted on January 31st, 2019 at 4:15 PM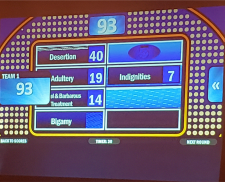 Members of the Charles F. Greevy Jr. American Inn of Court met on January 30, 2019 at the Villa. As usual, the attendees were rewarded with an interesting evening.
Judge Eric Linhardt's team gave a "Family Feud" style CLE presentation. Jeff Yates was the moderator. The presentation focused on areas of law that "families frequently feud about", such as divorce, custody, wills and estates and protection from abuse actions. There were eight rounds with questions like "Once standing is established, what are the ways in which a will can be invalidated?"
There were two teams: The Hatfields and The McCoys. The teams were quizzed by Jeffrey Yates, Dance Drier, Neil Devlin, Sean Gingerich and Nicole Slike on issues such as fault divorce, requirements for a valid will, protection from abuse requirements and even proposed legislation (which did not pass) relating to custody trials involving family pets.
After eight rounds and a speed round, Team McCoy emerged victorious.
Additional Photos