Welcome LLA Intern Chelsea Cornell
Posted on January 9th, 2019 at 8:27 PM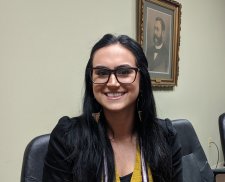 The Lycoming Law Association is pleased to welcome Lycoming College intern Chelsea Cornell to its staff. Chelsea will be using her extensive writing skills to assist Executive Director Michele Frey and Editor Gary Weber with a number of projects during the spring term.
Chelsea will begin her internship on January 14. Members, be sure to say hello at the annual meeting at 4:00 PM in the LLA office.
When asked for a biographical sketch, Chelsea offered the following:
Chelsea Cornell is a studying writer, essayist, and editor who will obtain her bachelor's degree from Lycoming College in 2019. She fashions critical essays with a special eye for capitalist and feminist criticism, offering new readings of plays and novels in renaissance and contemporary literature. As a member of The International collegiate English Honors Society, Sigma Tau Delta, she aims to submit her critical writing to the society as well as publish her essays through literary journal articles. She presently gains writing, editing, and event planning experience through Lycoming Law Association as an eager intern, with law school or graduate school in her future. She is a Dean's List recipient and enjoys reading thriller/mystery novels in her spare time. She also frequents the gym and hikes beautiful trails when she is not giving exquisite, memorable restaurant experiences to her customers.
Obviously, wordsmithing is one of Chelsea's talents - and the Association is hoping to use this skill to great advantage over the next few months.