Judge Ryan Tira Takes the Oath of Office
Posted on September 3rd, 2019 at 10:25 PM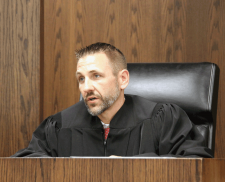 Courtroom number one at the Lycoming County Courthouse has probably never seen such a crowd. The room was filled to capacity as local elected officials, members of the bar, friends and family of newly appointed Judge Ryan Tira watched him take the oath of office.
The ceremony took place at 4:30 PM on September 3, 2019. President Judge Nancy Butts administered the oath of office and, with the help of his wife and children, Judge Tira donned his robe for the first time, and took his place on the bench.
Judge Tira thanked those who helped him in his quest to become judge, and his family members who have supported him.
The four sitting judges then offered their comments. Judge Lovecchio joked that he would now be faced with some tough decisions, such as whether or not to zip up his robe or to keep a candy jar in his office. Judge Linhardt offered some advice: "Don't let anyone tell you how to run your courtroom - stay true to yourself." Judge Butts commented that she was looking forward to having "fresh blood" in the courthouse to offer new ideas and someone who is "not as jaded as we have become."
Afterwards, Judge Tira was honored by the Lycoming Law Association at a reception at The James. Judge Tira is a recent president of the Association. The last Association president to have served as judge was Judge Thomas Wood, who was elected in 1963.
Additional Photos