Judicial Candidacies Announced by LLA Members
Posted on January 18th, 2019 at 9:44 PM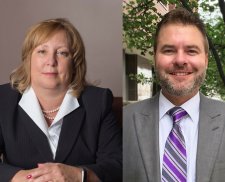 Two Lycoming Law Association members recently announced runs for local judgeships.
Mary Kilgus is seeking to succeed Judge Richard Gray on the Court of Common Pleas. The Williamsport Sun-Gazette reported the announcement:
Williamsport attorney Mary C. Kilgus has announced she is running for Judge of Common Pleas in Lycoming County.
Kilgus said she feels a need to help the community.
She is seeking the bench seat occupied by Judge Richard Gray, who is retiring.
Noting her qualifications to be a judge, Kilgus pointed to years of experience as a prosecutor in the Lycoming County District's Attorney's office and private practice.
"I have the benefit of having worked hundreds of jury trials," she said. "I was a prosecutor from 2006-12, and I did eight trials a month. Since leaving public service work, I have done civil work. I am a litigator. I know the rules of evidence. I think that would benefit me as a judge as well."
She noted her work in helping abused children and other victims of crimes. She said she'd like to take that work further by implementing programs in the county that can help victims.
"I feel called to help and to take the bench and right some of the wrongs that have been done," she said.
Kilgus said too often minorities receive the stiffest sentences for crimes.
"The rules are not applied equally in the community. They need representation on the bench," she said.
In addition to her legal background, she pointed to her education in public policy and public administration.
Her success as a prosecutor and dealing with child sexual assaults and rape culminated in her nomination for Women of Excellence by Wise Options for Woman in 2013.
"Really, that it my proudest achievement so far," she said.
Kilgus has been a member of the Lycoming County Bar for 12 years.
She graduated from the University of St. Thomas, and holds a law degree from William Mitchell College of Law. She also holds a master's degree in Public Administration from the University of Southern California and is pursuing her Ph.D. in Public Policy and Administration at American University in Washington, D.C.
She serves on the board of Firetree in Williamsport and as a judge in collegiate mock trial at Pennsylvania State University contests, and has been awarded North Penn Legal's Fair Share Award for pro bono legal assistance each year she has been in private practice.
Aaron Biichle is seeking the District Magistrate Judge position currently filled by Judge Alan Page, in Williamsport. He provided the following information about his candidacy:
Aaron S. Biichle, Esq., of Williamsport, Attorney at Biichle Law, P.C., has announced his intention to run for Magisterial District Judge. Biichle plans to cross-file and will seek the Republican and Democratic nominations for District 29-1-02 in the May 21st primary election.
Biichle graduated from Hughesville High School. He received his bachelor's degree in Criminal Justice Administration from Mansfield University where he obtained Dean's List status. He went on to receive his Juris Doctor from Widener University School of Law, Harrisburg, where he also obtained Dean's List status, was Vice President of the Trial Advocacy Honor Society and received an Excellence Award in Criminal Law.
A practicing attorney for over a decade, Biichle was formerly a prosecutor with the Lycoming County District Attorneys Office, where he was specially assigned to prosecute crimes involving special victims and obtained a 100% conviction rate in homicide trials. After his career as a prosecutor, Biichle was an associate attorney with Murphy, Butterfield & Holland, P.C., and then proceeded to open his own practice in Williamsport.
Asked why he was running for District Judge, Biichle said, "the position of District Judge is an important one because it is multi-faceted and offers a unique opportunity to serve my community in a face to face manner."
Active in the community, Biichle was appointed Special Hearing Master for the Lycoming County Underage Drinking Court, serves on the Advisory Board for Big Brothers/Big Sisters of the Bridge, and is a member of the Lycoming Law Association and former chair of the LLA Criminal Bar.
He attends Faith Wesleyan Church, Williamsport, where he serves on the Local Board of Administration and volunteers with the Youth Ministry.