LLA Foundation Awards Funds to Create Jury Video
Posted on July 25th, 2019 at 3:04 PM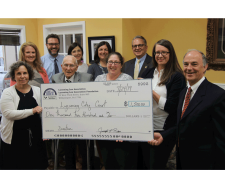 The Lycoming Law Association Foundation along with the Lycoming Law Association has awarded $1,500 to the Lycoming County Courts. This grant award provides funding for the 29th Judicial District to create two jury duty informational videos, providing essential information to summoned jurors.
According the Center for Jury Studies, a project of the National Center for State Courts, examinations of the institution of the American jury trial suggest that juror stress is one factor contributing to the reluctance of citizens to serve as jurors. Jurors confront sources of stress at every stage of jury duty. Beginning with the summons to jury service, they experience disruption of their daily routines, lengthy waits with little information and often in unpleasant surroundings.
As part of a public outreach effort to enhance juror communications and instructions and help reduce juror stress, the Office of the District Court Administrator will create two jury duty informational videos.
One video will focus on preparing the summoned jurors for their visit to the Lycoming County Courthouse, describes President Judge Nancy L. Butts. This video will help prepare jurors on where to park, where to report for service, and what to expect when reporting to help ease worries the juror may have.
The video will also help explain how to request a postponement or excusal from service if required, explains President Judge Butts.
A second video will serve as an orientation, educating jurors on the jury selection process, including the voir dire process. Voir dire is the examination of prospective jurors to serve on a jury to ensure the selection of a fair and impartial jury.
President Judge Butts added, the orientation video will help simplify the complexities of the jury trial process.
The goal of the Office of the District Court Administrator is to alleviate jurors concerns and make the jury process as comfortable and easy as possible for the residents of Lycoming County, President Judge Butts stated.
In Lycoming County there are approximately 56,000 potential jurors who may be summoned to report for jury duty. Annually, approximately 29,000 summons letters are mailed to the pool of potential jurors. In 2018, roughly 4,000 summoned jurors were actually called into the Courthouse for jury selection.