LLA Member Steinbacher to Be Honored with PBA Quality of Life/Balance Award
Posted on November 11th, 2019 at 9:02 AM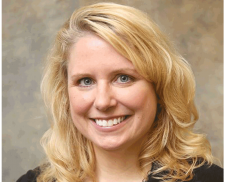 HARRISBURG — Williamsport lawyer Julieanne E. Steinbacher will be honored with the third Pennsylvania Bar Association C. Dale McClain Quality of Life/Balance Award at Committee/Section Day in Harrisburg on Nov. 14.
Presented by the PBA Quality of Life/Balance Committee, the annual award recognizes the substantial contributions made by Pennsylvania attorneys in identifying issues relevant to balancing the professional and personal lives of their peers, as well as the progress made in assisting attorneys in maintaining and improving their overall quality of life.
The award is named after C. Dale McClain, one of the founders of the Quality of Life/Balance Committee and the 114th president of the PBA. McClain spent much of his career fulfilling the mission of the committee through educating attorneys on the importance of attaining a quality of life/balance in the practice of law.
Steinbacher, who is a founding shareholder practicing elder law at Steinbacher, Goodall &Yurchak, is being recognized for her dedication to rejuvenating the Quality of Life/Balance Committee and presentation on life/balance challenges, issues, guidelines and skills at many professional seminars and events.
A member of the Quality of Life/Balance Committee since 2008, Steinbacher re-energized the committee with her dedication to, and enthusiasm for, effecting balance between lawyers' personal and professional lives serving as chair and co-chair from 2012 to 2016. After experiencing a series of personal circumstances that required boundaries, she developed and shared life balance skills and methods, including time management and other self-preservation guidelines. She frequently continues to research time management techniques and how to use technology as a benefit.
Steinbacher has also participated regularly in presenting on time management and life balance topics at various elder law institutes, the Inside/Outside Counsel Summit, and the Commission on Women in the Profession events. As part of these presentations, Julie shares prepared materials to provide resources to other attorneys striving to affect a reasonable balance between their personal and professional lives.
In 2015, Steinbacher received a PBA Special Achievement Award for her dedication and commitment to the PBA's Quality of Life /Balance Committee.
Steinbacher received a B.S. from King's College in 1994 and a J.D. from Widener University in 2000.
In addition to the Quality of Life/Balance Committee, Steinbacher is a former chair of the PBA Elder Law Section, Zone Four Delegate and Zone 4 Young Lawyers Division chair. She also is a member the PBA Real Property, Probate and Trust Law Section and Solo and Small Firm Section. Steinbacher is a former president of the Lycoming Law Association and a past member of the Pennsylvania Bar Foundation Board of Directors.