LLA Members Announce for Judge
Posted on January 8th, 2019 at 9:16 PM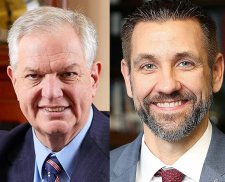 Election season 2019 has begun. One of the positions to be filled in 2019 is that of county judge, for the open position recently vacated by Judge Richard Gray.
Two candidates, both members of the Lycoming Law Association, have already entered the race. William Carlucci and Ryan Tira, both former presidents of the Association, are hoping to convince county electors of the merit of their candidacies. Others may seek the position - the deadline for filing petitions to run in the primary election is March 12.
Bill Carlucci announced that he was running for the position in late 2018. An interview appearing in the Williamsport Sun-Gazette provided the following background information:
"I think I can benefit citizens of Lycoming County by bringing my experience to the bench," Carlucci said.
Carlucci is a member of the Williamsport law firm of Elion, Grieco, Carlucci & Shipman, P.C., concentrating in commercial and real estate litigation, contact negotiation and drafting, and commercial collections.
Carlucci has practiced law in Lycoming County since 1979 including two years in the law offices of Henry Perciballi, three years as an assistant district attorney and more than 30 years in his firm.
"I have an affinity to Lycoming County," he said. "I was raised here. This is my home."
Carlucci noted his affiliation and work with different legal organizations.
He is past president of the Lycoming Law Association and served three separate terms as a member of the Pennsylvania Bar Association Board of Governors and a member of the board of directors of the Pennsylvania Bar Institute.
In 2005 and 2006, he served as the president of the 28,000-member Pennsylvania Bar Association. He also served six years on the Supreme Court of Pennsylvania Interest on Lawyers' Trust Accounts Board, including one year as vice chairman and one year as chairman.
He has served with a number of civic and community organizations, including as past president of the Kiwanis Club of Loyalsock Township, a member and president of the Loyalsock Volunteer Fire Co. No. 1, Loyalsock Township Planning Commission, Ski Sawmill Ski Patrol, and the Loyalsock Township School District School Board.
He is a lifelong member of the Boy Scouts of America, including 40 years as an adult volunteer and 30 years on the executive board of the Susquehanna Council
Carlucci is a parishioner of the Church of St. Ann and has served as a lector for nearly 40 years.
He has been certified as an emergency medical technician for more than 40 years.
"I think that every community contact is an important part of being a judge," he said. "My commitment to the community is evident in the volunteer work I have done, and I think that better prepares someone to serve in any job."
Carlucci said he always wanted to be a lawyer and to be in the courtroom.
"I did not feel a calling to the bench until I was an experienced lawyer," he said.
Carlucci is a 1976 magna cum laude graduate of Lycoming College and a 1979 graduate of the Temple University Beasley School of Law. In 2006, he was honored as Lycoming College's Alum of the Year.
He is married to the former Christine Vanderlin.
The couple have three children.
Ryan Tira's announcement likewise was reported by the Sun-Gazette, in early January 2019:
Tira pointed to his experience and community involvement as qualifications.
"I feel called to do it as a role of service to the community," he said. "I believe in our American judicial system. It requires people in it to be of a certain character and temperament. You do it not for yourself but to serve others."
Tira has practiced law for 16 years.
Since joining the law firm of McNerney Page Vanderlin & Hall in 2002, he has developed a practice centered around serving public clients, including county and municipal government.
"A gratifying part of my career has been assisting local governments to meet the needs of their communities," he said. "Through this work, I have overseen many hearings, all of which prepared me to handle court room proceedings as a judge."
His legal practice has taken him before several judicial bodies, including: U.S. District Court, state Superior Court, state Commonwealth Court, Courts of Common Pleas, Pennsylvania Labor Relations Board, Pennsylvania Human Relations Commission, Unemployment Compensation Referees, and private arbitrators.
Tira noted he has donated his legal services through pro bono representation for the Greater Hope Care Center and for victims of domestic violence.
He said he tries to be open-minded and deliberative, important attributes for being a judge.
Tira has been involved in a number of community organizations including:
• Big Brother through Big Brothers, Big Sisters of Lycoming County.
• Director and coach of John Bower League Basketball teams.
• Coach, South Williamsport Area School District 8th Grade boys basketball.
• Montoursville Youth Football and Cheer League Board of Directors and League Commissioner.
• Committee Person, Lycoming County YoungLife Student Ministry.
• Board of Directors, K's for Cancer.
• Montoursville Kiwanis.
• Leadership Lycoming Chair of Community Projects.
• Williamsport/Lycoming Chamber of Commerce Board of Directors.
• Williamsport Regional Airport Authority Board, assistant director/treasurer.
• Committee Person, Lycoming County Republican Committee.
Tira is a member of Faith United Methodist Church where he has served in several leadership roles. He is lay representative for the church to the Susquehanna Conference of the United Methodist Church.
"My faith experiences have shaped the foundation of who I am and who I strive to be," he said. "Keeping perspective on the big picture in life is crucial and I use my faith to help me keep that perspective."
Tira and his wife, Andrea, have four children and make their home in Montoursville.