LLA Members Discuss Legal Careers
Posted on October 5th, 2019 at 8:28 AM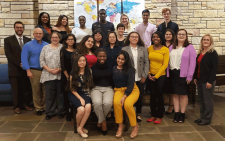 Lycoming Law Association members Christian Frey and Nicole Ippolito joined their executive director, Michele Frey to meet with a group of about twenty Lycoming College students and faculty to talk about career opportunities in the legal profession. Judge Frey and Attorney Ippolito suggested that students expose themselves to the legal system by interning or shadowing a local lawyer or judge.
The students were also cautioned to carefully consider the time, stress and money before deciding whether to enroll in law school. "Make sure it is really what you want before you decide" Attorney Ippolito said. "It is a big investment and it's OK to take a year or two off between college and law school if you're unsure."
If the Lycoming students, who were mostly juniors and seniors, do decide to enroll in law school, Judge Frey suggested that they "be open to all different areas of the law, even if you take on this endeavor thinking you want to practice in a certain area." Frey also told the students that the local bench and bar are very approachable and if they needed help finding a lawyer or judge to shadow, he would happily asset with finding placement.
The discussion also included acknowledging that Williamsport is lucky to also have a federal court, which means there is diverse practice areas for the lawyers of Lycoming County.
The Lycoming College students eagerly asked questions about the LLA members' career paths, work/life balance and the bar exam. Several of the students indicated they were already studying to take the LSATs. Many of the students indicated that they are considering law school because of their desire to "help people."