Love Your Lawyer Day in Lycoming County
Posted on November 2nd, 2019 at 8:54 PM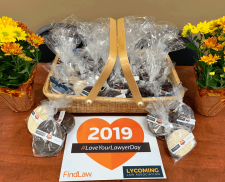 A holiday started by a Fort Lauderdale-based attorney hopes to give lawyers a break from the bad name their industry sometimes garners and offers a chance to show your lawyer that they are appreciated with a card, a message, flowers or perhaps a hug. The holiday: "Love Your Lawyer Day." The hashtag: #LoveYourLawyerDay. The goal: show appreciation for attorneys.
The Lycoming Law Association celebrated "Love Your Lawyer Day" on Friday, November 1. Members who attended were treated to snacks and cookies. FindLaw sponsored door prizes including T-shirts, key chains and hand-made chocolates.
Started 18 years ago by Fort Lauderdale business attorney Nader Anise, the holiday is being celebrated on social media with the hashtag #LoveYourLawyerDay.
"I was kind of tired of lawyers getting beat up on in terms of their image," Anise said to the South Florida Sun Sentinel in 2015. "Lawyers are basically vilified in society and by society, mainly they are doing their job. … I wanted to put a day to say to lawyers, thanks for doing a good job, and especially for those who give access to justice."
In 2015, the American Bar Association designated the first Friday of each November as Love Your Lawyer Day. 2019 is the first year that the Day was celebrated in Lycoming County - but it's a good idea!
Additional Photos