McCormick Firm Receives United Way Award
Posted on May 19th, 2019 at 9:27 PM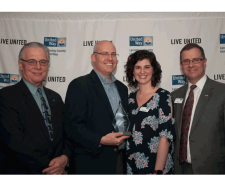 One of the hallmarks of a Lycoming County lawyer is community service. Members of the McCormick Law Firm have always demonstrated their commitment to charity.
In 2019 the firm was recognized for its support of the Lycoming United Way. At its April 2019 award ceremony, the firm was recognized with the President's Award.
The President's Award is awarded to a company or organization that has run a model workplace campaign, demonstrated continued leadership in its workplace campaign strategies and helped raise awareness and understanding of United Way.
LLA member Brian Bluth was present to accept the award for the firm.
Congratulations to the members of the McCormick Law Firm for their achievement.