Mowrey Donates Nichols Award Funds to CASA
Posted on February 25th, 2019 at 6:53 PM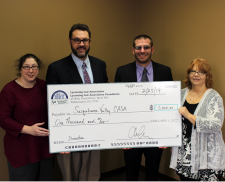 The William E. Nichols Community Service Award was awarded to Corey Mowrey at the 2019 LLA Annual Banquet, to recognize his outstanding community service and for exemplifying the positive role that attorneys play in our community beyond the practice of law. With that award comes the ability to designate a community organization to receive a donation form the LLA.
Corey has made a choice, and has designated $1000 to be given to Susquehanna Valley CASA - Court Appointed Special Advocates. A CASA volunteer works with children in foster care, speaking up for their best interests. Corey serves as president of the board of Susquehanna Valley CASA.
On February 25, 2019, Yvonne Heatley, Executive Director of CASA, accepted the gift from Corey and LLA representatives President Christian Frey and Executive Director Michele Frey.