Mullholand Attends 2019 PBA YLD Summer Summit
Posted on August 12th, 2019 at 4:46 PM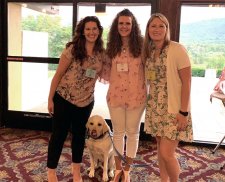 The Lycoming Law Association sponsored Taylor J. Mullholand's attendance at the 2019 PBA YLD Summer Summit held July 24-26th, at the Wyndham Garden Hotel and Conference Center. Here is her report:
This was a wonderful "work-cation" which allowed me to mix and mingle with lawyers I had previously met, met for the first time, and even allowed faces to be added to emails as the PBA connects with many of us through electronic resources. Like myself, there were many who had never been able to attend a YLD event, and the experience was memorable.
Wednesday evening, during a lovely meal, PBA President Elect Anne N. John spoke on the need for "Young Lawyers" to actively participate and engage in the PBA as the bar association in part is there for us. She continued to note how pleased she was with the turn out; and how encouraged she was with what the PBA, including its "Young Lawyers", are currently up to. For those unaware, the PBA is quite active in the communities in which is serves, and only by the assistance of actively participating attorneys and their staff, can we continue to touch as many lives as we have. The evening ended with an interesting game of Quizzo which the Lycoming County attending members, myself along with Jerri Rook (Executive Secretary to the Honorable Joy Reynolds McCoy), Jedi (Lycoming County Courthouse Dog) and Rachel Planas (McCormick Law, Zone 4 Chair) made… a valiant attempt.
Thursday morning began with a Young Lawyers Division Business meeting where issues discussed included various YLD Projects coming up (including but not limited to Project Linus and the State Wide Mock Trial Competitions ); Zone events (including Zone 4's Caravan to Knoebel's ). The meeting ended on a controversial note, presented by YLD At Large Chair to Law Schools, Lauren Hartley, "should the Pennsylvania Bar Exam convert to the use of the Universal Bar Exam (UBE) when our boarder states have all converted?" While no decision has been reached by the Pa. Board of Law Examiners to date, I would suggest everyone keeping a watchful eye.
Following the meeting, our very own stars, Jedi and Jerri Rook, appeared, along with their counterparts Buster & Holly Wise (York County Treatment Court Dog) and Nicholas & Jessica Jones, Esq. on a CLE panel entitled "Facility Dogs: Man's Best Friend Meets the Courthouse ". The panel discussed how other courthouses could obtain a facility dog; the benefits seen by the three handlers (including but not limited to both comforting children, offenders and attorneys); and the most important question – why there are only 6 in our state. The group was highly interested in the good deeds these dogs do everyday and how they could bring the same to their communities. The panel was asked if they would be willing to repeat their presentation at a meeting of our judiciary.
Thursday evening ended with a photo booth, picnic dinner, dancing and good fun.
Friday morning was met with yet another wonderful panel, Criminal Law: From Arrest to Trial, where Judiciary and Practitioners presented strategic tips to navigate the criminal system. The Honorable Thomas Kistler (Center County) warned us all not to drink to much coffee before court as he notes there is "no more embarrassing side bar". On a more serious note, Magistrate Charles Clement encouraged all practitioners to take advantage of the preliminary hearings. Magistrate Clement noted the ongoing debate of whether or not Police Officers and Witnesses should be available to testify at this junction. While many counties require the same, others do not; the advantage obviously being your ability to review the facts of the Prosecution's case ahead of time, enabling a productive preparation for trial or a plea agreement. The morning ended with the overwhelming mantra, "GO WATCH and GO PRACTICE" as Criminal Court, and Sentencing Guidelines cannot be taught in a classroom.
Overall, my fiancé and I had a great time and are so thankful for the opportunity to attend. This experience not only allowed me to meet new colleagues, but it also introduced me to new areas of law, as well as issues within the legal community. The event was in my opinion a success and I again thank the Lycoming Law Association Leadership for sponsoring my appearance.
Additional Photos