Pennsylvania Senate Recognizes LLA 150th Anniversary
Posted on May 20th, 2019 at 9:26 PM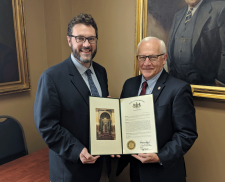 The Lycoming Law Association Executive Committee had a special guest at its May 19 meeting. Pennsylvania Senator and Lycoming Law Association member Gene Yaw attended to present a citation to the Association commerating the organization's 150th Anniversary.
The resolution, sponsored by Senator Yaw, recognizes the reputation of the members of the Association for the highest quality of service as well as the "steady adherence to the principles of fairness, reliability and integrity."
Also acknowledged are the 70th birthday of the Lycoming Reporter and thirty years of the Lycoming Law Association Foundation.
President Christian Frey accepted the resolution for the Association.