Retired Attorney Tooting His Own Horn
Posted on April 19th, 2019 at 4:16 PM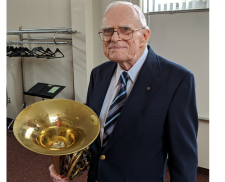 Retired Lycoming County attorney Bob Wise is not resting on the laurels of a successful legal career. He is taking up music to complement his legal background.
Bob has been taking French Horn lessons at St. John's School of the Artsfor the past 4-5 years and recently gave a recital. He played Rondeau by Jean-Joseph Mouret, a tune he likes as the theme for Masterpiec Theater.
At age 93, Bob is probably one of the older students. Goes to show that we are never too old to learn something new.