Annabel Miller - 1926-2020
Posted on February 21st, 2020 at 11:42 AM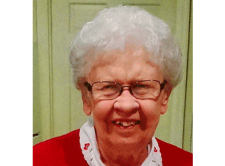 Members of the bar will be saddened to hear of the death of longtime Lycoming County Register of Wills, Recorder of Deeds and Clerk of the Orphans' Court, Annabel Miller. Ms. Miller died on February 17, 2020.
Annabel Miller had a long history of service to the Lycoming Law Association. For 44 years, beginning in 1961, she served as the Business Manager of the Lycoming Reporter. She served in that role until the Association merged the position into the newly created position of Executive Director, in 2004.
In 2005, Annabel Miller was honored at the Association's annual banquet for her competence, loyalty, and devotion to duty. Annabel was presented with a plaque and gifts from the Association.
She retired from the Register & Recorder position at end of 2015. Her service to the Register & Recorder's office was five decades long, both as the elected row officer and as a member of the staff under her predecessors.
Here is the full obituary:
Annabel R. Miller, 94, of Montoursville, died Feb. 17, 2020, at UPMC Susquehanna.
She was born Jan. 22, 1926, in Upper Fairfield Township, a daughter of the late Frank and Anna (Anstadt) Moon. Annabel graduated from Montoursville High School in 1942 and attended Goodwin's School of Business in 1943. On May 20, 1943, she started as a typist in the Register and Recorder's Office in Lycoming County
On May 3, 1947, Annabel married Lawrence E. Miller of Mill Creek Township. She took some time off from the courthouse while they started their family, returning in 1956 as a clerk in the Register and Recorder's Office. She was promoted to deputy register and recorder in 1960 and chief deputy in 1979. In 1992, Annabel commenced her first term as the elected register and recorder. She continued to be elected and hold that office until Dec. 31, 2015, when she retired after 64 years of service to Lycoming County.
Annabel was the organist at Heilman Methodist Church for many years and accompanied a men's church quartet that included her husband. Most recently she had attended Bethel United Methodist Church, Montoursville.
In addition to her parents, she was preceded in death by her husband, Lawrence E. Miller (after 62 years of marriage); her sister, Ethel Moon; and her grandson, Garrett Timbie.
Surviving her are her son, Richard A. (Naomi) Miller, of Racine, Wis., and her daughter, Cindy Y. Timbie, of Odenton, Md. She is also survived by three grandchildren, Seth (Jennifer) Miller, of Scottsdale, Ariz.; Erin (Eric) Kuehl, of St. James, Minn.; and Justin Timbie, of Washington D.C. In addition, she has six great-grandchildren, Zoe (10), Vivian (9), Stella (7) and Leah (5) Miller, and Owen (12) and Lillianna (10) Kuehl.