In Memoriam: Don M. Larrabee II (1941-2020)
Posted on August 10th, 2020 at 6:07 AM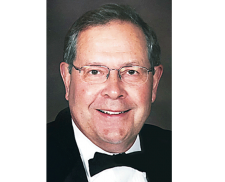 Don Marshall Larrabee, a 46 year member of the Lycoming Law Association, died on August 10, 2020.
Obituary
Don Marshall Larrabee, 78, of Bethlehem, PA and Venice, FL formerly of Williamsport, PA, passed away on Monday, August 10, 2020. He was the beloved husband of Ann (Henry) Larrabee, with whom he shared over 23 years of loving marriage. Born on November 26, 1941 in Williamsport, Don was the son of the late John Amsden and Rae (Crooks) Larrabee.
Don was a graduate of Williamsport High School, Franklin Marshall College and Fordham University School of Law. He owned and operated his own law firm for many years in Williamsport before retiring. Don also taught Business Law at Lycoming College for 37 years. He was a member of Venice Presbyterian, FL and Grace Church Bethlehem, PA. Don was also a lifetime member of the Gray's Run Club, Trout Run, PA.
Survivors: In addition to his wife Ann, Don will be lovingly remembered by his daughter, Deborah Lynn Hite and husband Jason, of Woodstown, NJ; stepsons, Brian R. Carosielli of Chatham, NJ and Todd M. Carosielli and wife Nicole, of Seattle WA; grandchildren, Madeline Rae and Lillian Grace Hite, Olivia Katheryn, Owen Michael, Isabel Ann and Lucia Rose Carosielli.
Services: A visitation will be held from 1 to 2:00 p.m., on Thursday, Aug. 20, in Cantelmi Long Funeral Home, 500 Linden St., Bethlehem, PA 18018. Masks are required for entry and social distancing will be observed for everyone's safety. The number of guests in the funeral home at one time will be limited. A private graveside service will be held in Williamsport, PA. A memory tribute may be placed at www.cantelmifuneralhome.com.
Contributions: In lieu of flowers, donations can be made to Parkinson's Place. During COVID they have expanded their program outreach to help patients and caregivers anywhere online.