Joe Rider Recognized for 30 Years of Service to the LLA Foundation
Posted on February 26th, 2020 at 8:15 PM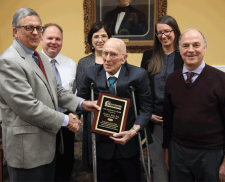 The Lycoming Law Association Foundation was established in 1989 with the lofty mission "to cultivate the science of jurisprudence, improve the legal and judicial system and facilitate the administration of justice for residents of Lycoming County; to promote education generally, including the cultivation of law-related education in schools of Lycoming County, the granting of scholarships, assistance to public libraries in Lycoming County and advancement of continuing legal education...."
This mission continues today, with an extremely active board of trustees. Among the dedicated trustees who have served the Foundation over the years is one man who was present at the start, and who still remains a member: Joseph L. Rider. Joe's long and outstanding service was recognized by the board on February 26, 2020, with a plaque, at the regularly scheduled meeting of the board.
Joe Rider's tenure has seen the assets of the Foundation balloon to a current level of over $360,000. As he reported to the members at January's annual meeting, in the span of its existence, the Foundation has granted $164,689 to worthy causes. Most recently, Joe served as president of the board.
Thank-you Joe Rider for 30 years of dedicated service to the Lycoming Law Association Foundation.