LLA Foundation Grants Funds to CASA
Posted on December 7th, 2020 at 12:19 PM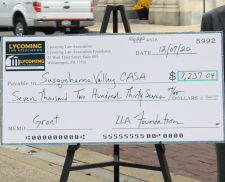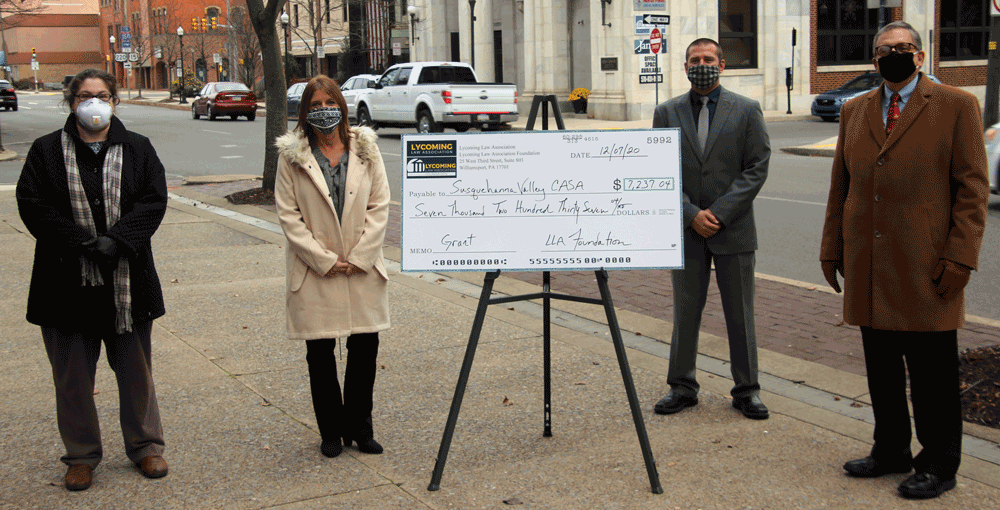 The Lycoming Law Association Foundation is pleased to announce that it has approved a grant in the amount of $7,237.04 to Susquehanna Valley Court Appointed Special Advocate (CASA), to help fund an additional case manager dedicated to serving Lycoming County.
Foundation President Judge William Arbuckle III and LLA Executive Director Michele Frey presented the check to CASA Executive Director Tammy Sempko and Board President Corey Mowrey on December 7, 2020.
Susquehanna Valley CASA serves abused and neglected children in Lycoming, Union, Snyder, and Northumberland Counties. In Lycoming County, there are currently 31 children being served. Unfortunately, in Lycoming there are also 20 children on the waiting list. Funding an additional case manager who is devoted to Lycoming County allows more children to have an advocate inside the courtroom.
CASA Executive Director Sempko, said, "We are proud of the positive contribution we are making to the most vulnerable children in our community. This generous grant contribution from the Lycoming Law Association Foundation will allow us to continue to carry out our mission and be the voice for abused and neglected children in the courtroom."
To learn more about the Lycoming Law Association Foundation go to: https://www.lycolaw.org/lla-foundation