Local Officials Assume Office
Posted on January 4th, 2020 at 10:09 PM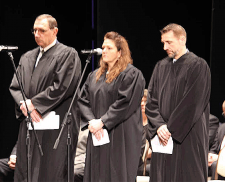 County, city and municipal officials were sworn into office on January 3, 2020. The ceremony was held in the Community Arts Center, and was well attended by members of the community.
The ceremony was opened by host radio personality Ken Sawyer. After the flag was presented by the Marine Corps League Color Guard, Alexis Carnevale sang the national anthem. Eagle Scout Isaac Schriner led the audience in the Pledge of Allegiance and the invocation was offered by Pastor Stan Cary.
Retired Lycoming College history professor Dr. John Piper was the keynote speaker. He offered thoughts on the US Constitution. His focused on the preamble, and in particular its stated purpose, "to promote the general welfare" in charging the elected officers for the performance of their duties.
The oaths were then given to the elected officials. President Judge Nancy Butts gave the oath to newly retained Judges Marc Lovecchio and Joy McCoy, as well as Judge Ryan Tira, who was elected in November. District Judge Aaron Biichle was also sworn in by Judge Butts.
Senior Judge Richard Gray then gave the oath to County Commissioners Scott Metzger, Tony Mussare and Rick Mirabito.
Three county row offices of interest to local lawyers were filled in the fall election. LLA member Ryan Gardner was elected District Attorney. Prothonotary Thomas Heap and Register and Recorder David Huffman are also new to office. They were among the row officers who were given the oath by Judge Lovecchio.
The ceremony continued with the oath of office being given to many other city and municipal elected officials.
Additional Photos