PBA Presents Awards for Outstanding Leadership, Extraordinary Service and Longstanding Membership
Posted on November 17th, 2020 at 9:20 PM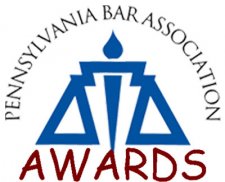 The Pennsylvania Bar Association presented awards that recognized outstanding leadership in the legal profession and extraordinary service and longstanding membership in the Association.
PBA Special Achievement Awards recognize those lawyers and individuals who have provided time and resources to improve the association and the legal profession. The President's Awards, bestowed at the discretion of 2019-20 PBA President Anne N. John, recognize extraordinary commitment to the association. PBA Fifty-Year Member Awards recognize lawyers who have been association members for five decades.
The Special Achievement and President's awards were presented on Nov. 19 during a virtual awards presentation held during Committee/Section Day. Fifty-Year Member Awards were presented separately.
Lycoming Law Association members who received awards are:
Charles F. Greevy III, Greevy & Taylor, Williamsport: Fifty-Year Member Award
Lester L. Greevy Jr., Greevy & Associates, Williamsport: Fifty-Year Member Award
C. Edward S. Mitchell, Mitchell Gallagher PC, Williamsport: Fifty-Year Member Award
Kristine L. Waltz, Dinges Dinges & Waltz LLC, Williamsport: Posthumous PBA Special Achievement Award — for her dedication in coordinating Lycoming County's Wills for Heroes events and outreach.