2021 Toy Drive Concludes
Posted on December 11th, 2021 at 12:32 PM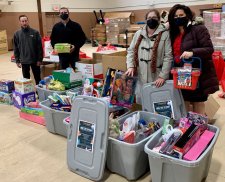 The Lycoming Law Association received hundreds of toys, books and clothing items that were donated by members and their staff for the annual Angel Tree Holiday Collection. Gifts are being provided to the children in Lycoming County's CASA program and to the Salvation Army, who provide gifts to over 750 local children each year.
Attorney Taylor Beucler coordinated this year's event with help from Attorneys Bryan Fitzcharles and Corey Mowrey.
Thanks to all who contributed to this year's successful toy drive.