Bar Leaders Plan for 2021
Posted on February 16th, 2021 at 10:05 PM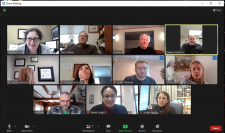 Each year the governing body of the Lycoming Law Association meets during a winter afternoon to plan the activities for the upcoming year. The meeting usually starts with a meal and then continues with in-person, intensive planning sessions.
Unfortunately, 2021 started as 2020 ended - no eating or meeting together, so the Executive Committee's annual retreat was conduced on Zoom - food on your own.
The primary focus of this year's session was to address the impact of COVID-19 related restrictions on Association operations and finances. The LLA recognized that it must continue to provide services to its members to remain viable. Yet income reductions due to cancelled CLE presentations and reduced advertising in the Lycoming Reporter because of court closures, have resulted in a budget deficit. At the same time, the social aspects of our association are very limited where we are unable to gather for events.
Hope was expressed that the annual summer picnic will be scheduled this year. Other events will occur as the virus is more controlled by inoculation.
More CLE opportunities will become available in 2021 via video, through an arrangement with Axom. Also, collaboration with distance providers will make more opportunities available for online CLE content of local interest.
President Martino is planning to work through the committee chairs to accomplish more at the committee level. Some discussion occurred on changes to the way that attorneys are recognized for their pro bono efforts, and that will be referred to the Indigent Committee. He also mentioned offering support to our members from the substantive law committees, with practice related questions.
The need to continue to support our membership in the face of continued COVID-19 related disruptions of our routine and in the operation of the courts was recognized.