Courthouse Dog, Jedi, Succumbs to Cancer
Posted on November 13th, 2021 at 11:23 AM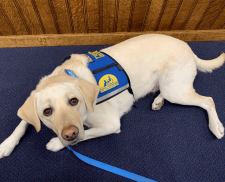 In 2018, a specially trained facility dog was donated to the Lycoming County Court of Common Pleas. The Labrador-Golden Retriever mix, named Jedi, joined the court to work with children and victims of crime. His function was to make the court process easier and less intimidating for children and to assist during testimony that is often emotionally-charged.
"His ability to deescalate tense situations was amazing," said Jerri Rook, Jedi's handler. "When Jedi came into the courtroom, I could feel the stress levels go down."
Unfortunately, Jedi recently succumbed to cancer. During his short time in Lycoming County, he had a huge impact on the community. "The lawyers and judges who worked with Jedi understand best what a significant loss his passing is," said Michele Frey, Executive Director of the Lycoming Law Association. "Given the outpouring of support by those outside of the legal community, it seems that everyone appreciated the important role that a courthouse dog plays in our legal system. Jedi was a valuable asset to our courts," Frey went on to say.
During his short time as a courthouse dog, Jedi helped hundreds of people through traumatic situations. "I have seen children actually become excited to regularly come to court, because they were looking forward to spending time with Jedi. His absence leaves a huge hole in everyone's hearts," Rook said. Courthouse employees agree, as Jedi was very popular among the county staff. "We will miss him so much," said Attorney Jennifer Linn, who works at the county courthouse. "He was a special dog with a special purpose," she pointed out. "He has been such a positive force inside the courtroom," Linn said.
It is not known at this time whether a successor courthouse dog is possible for Lycoming County. Deepest condolences are offered to Jedi's handler and all those who are suffering from his passing.