Foundation Donates Funds to Legal Services
Posted on March 24th, 2021 at 7:59 PM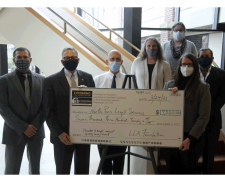 Every year the Lycoming Law Association Foundation receives a funds from Lycoming County attorneys who have chosen to donate their arbitration fees to the Foundation. Rather than accept fees for performing work as arbitrators, the majority of county attorneys donate their earnings to the Foundation. The Foundation, under its spending policy, grants 80% of those fees to North Penn Legal Services.
Funds generated in 2020 were provided to the NPLS office on March 24, 2021. The office received a check for $7320 to support its mission of providing legal services to low income people in Lycoming County.
Members of the Association who are not donating fees to the Foundation may choose to do so at any time. The required form may be found at https://www.lycolaw.org/designating-arbitration-fees.
Photo from left: Corey Mowrey, Judge William Arbuckle; John Pietrovito, Trish Shipman, Michele Frey, Jen Heverly, and Mark Drier.