LLA Foundation Supports Montoursville Mock Trial Program
Posted on September 13th, 2021 at 9:39 PM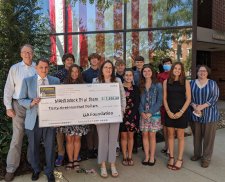 One of the missions of the Lycoming Law Association Foundation is to "promote education generally, including the cultivation of law-related education in schools of Lycoming County." To that end, the LLA Foundation has in previous years supported the high school mock trial program in Lycoming County Districts.
Recently the Foundation considered the application of the Montoursville High School Mock Trial Team for a grant to support the team's training efforts. The team intends to attend the Harvard Mock Trial Seminar for High School Students in Cambridge, Massachusetts in October 2021. Harvard's team of nationally award-winning Mock Trial members runs the Harvard workshop. They walk students through writing high-quality opening statements and closing statements, writing effective direct and cross questions, and witness development. Students not only sit through classes where they learn about the skill they are trying to develop but they follow that up with a work-session to apply the skills.
The team works at the local Fall Festival to support the travel and lodging costs for the program. The grant was sought to pay the registration fees.
Montoursville is one of the only local schools that regularly hosts a team. The quality of the presentations demonstrates the quality of the school's mock trial program.
Members of the team, Elise Beishline, Lauren Kremer, Lanie Mussina, Alexa Tira, Ian Labatch, Ionut Reynolds, Greyson Simms, Noah Huffman, and coach Susan Earl, met with Association members Paul Roman, Nicole Ippolito (the team's legal advisor), Gary Weber and Executive Director Michele Frey to receive the grant funds.