LLA Member to Run for Magisterial District Judge Position
Posted on February 4th, 2021 at 9:40 PM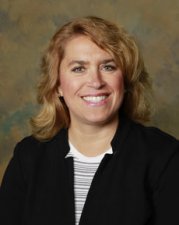 Denise Dieter announced in January that she will be running for the position of Magisterial District Judge for District Court 29-3-01 in Jersey Shore, the office currently held by District Judge Jerry Lepley, who will be retiring this year. Dieter has practiced with the general practice law firm, The Drier & Dieter Law Office, with a concentration in municipal, estate, civil law and social security/disability law and litigation.
Dieter was appointed as the chief compliance officer for the Republican Party of Pennsylvania in 2019. She was appointed by U.S. Sen. Pat Toomey, R-Zionsville, as the sole attorney from the region to serve on a 2011 Judiciary Review Committee to make recommendations for U.S. Presidential appointment of two federal judges. She was appointed in 2016 as a member of the Pennsylvania Bar Association Judicial Evaluation Commission Investigative Panel.
Dieter graduated from Mansfield University in 1990 and from Widener University School of Law in 1993. She was admitted to the Pennsylvania Bar and joined the Lycoming Law Association in 1993.