LLA Members Take Oath as Magisterial District Judges
Posted on December 28th, 2021 at 9:14 PM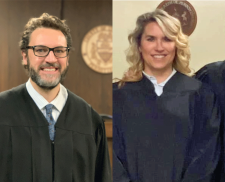 Lycoming Law Association members Christian Frey and Denise Dieter were administered the oath of office as Magisterial District Judges, in recent ceremonies.
Judge Dieter was elected to her first term of office in the November 2021 general election. She will be replacing retiring Judge Jerry Lepley. Judge Dieter's oath of office was administered by Judge Eric Linhardt, before Christmas.
Judge Frey was reelected in November, and will begin his second term. His oath was administered by Judge Ryan Tira on December 27.
Congratulations to both Judges on their election victories, and the LLA wishes them well in their service to Lycoming County citizens.
Additional Photos