LLA Partners With Distance Provider to Provide Online CLE
Posted on April 2nd, 2021 at 9:42 AM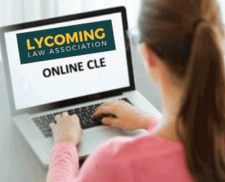 The Lycoming Law Association is very pleased to announce its partnership with online distance provider Axom. Previously recorded LLA continuing legal education presentations will be available for CLE credit, on the Axom site.
Several of the LLA's CLE presentation videos have been posted on Axom's website, which you may watch to earn CLE credit. You can access the LLA's page on Axom's site by clicking here: https://www.axomeducation.com/lycoming. [Note: this service is no longer available as of August 2023.]
Note that the LLA will have more videos posted to this site in the near future. In the meantime, more than a hundred CLEs are also available from other bar associations and when you use the link above to access them, the Lycoming Law Association receives a portion of the proceeds from your purchase and you get CLE credit.
We will continue to offer Zoom CLE opportunities. The LLA's next Zoom CLE, presented by Hon. Marc F. Lovecchio, is scheduled for April 21st from 12-1PM. Sign up information can be found here: https://www.lycolaw.org/uploads/events/2021/2021.0421criminal.pdf