Regional Mock Trial Competition Results in State College Win
Posted on March 23rd, 2021 at 8:11 PM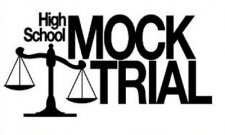 HARRISBURG (March 23, 2021) — Sixteen Pennsylvania high schools are advancing to the 38th Annual Pennsylvania Bar Association (PBA) Statewide High School Mock Trial Competition finals, which will be held virtually this Friday, March 26, Saturday, March 27 and Tuesday, March 30. The competition is coordinated and sponsored by the PBA Young Lawyers Division.
This year, 232 teams from 199 high schools competed in district and regional levels of Pennsylvania's mock trial competition in hopes of gaining one of the 16 spots at the statewide competition that was held virtually for the first time. Pennsylvania's competition is one of the largest in the nation.
The winning team of the state championship will represent Pennsylvania in the national mock trial finals to be held virtually, May 13 – 15, Evansville, Ind.
In Williamsport, the State College High School team competed against the St. Mary's team in a competition held virtually using the Zoom application. A number of Lycoming Law Association members were involved with the trail: Federal Magistrate Judge William Arbuckle presided at the trial while LLA members Dance Drier, Jessica Harlow, Gary Weber, Nicole Ippolito, Susan Roinick, and Corey Mowrey served as jurors. State College won the round and will advance.
On March 26, all 16 teams will participate in two rounds of competition, one at 1:30 p.m. and one at 5:30 p.m. Up to eight teams that have won their first two rounds of competition will advance to an 8:30 a.m. round of competition on March 27. The two winners of this round (or the two highest-ranking teams) will advance to the state final on March 30 at 4:30 p.m. President Judge Kimberly Berkeley Clark, Fifth Judicial District of Pennsylvania, will serve as the presiding judge.
This year's hypothetical case, Estate of George Romero v. Ashley Williams, is a civil case for damages. George Romero's heart stopped beating within thirty minutes of consuming a chemical prepared for him by Ash Williams. The plaintiff contends that the chemical concoction was a mixture of caffeine and hallucinogens that predictably overwhelmed George's heart. The defense contends that plaintiff's allegations are nothing more than suspicion and speculation.
During the competition, eight-member student teams are given the opportunity to argue both sides of the case in an actual courtroom before a judge. The students, who play the roles of lawyers, witnesses, plaintiffs and defendants, are assisted by teacher coaches and lawyer advisors in preparing for competition. Lawyers and community leaders serve as jurors for the mock trials. The juries determine the winners in each trial based on the teams' abilities to prepare their cases, present arguments and follow court rules.
The teams participating in this year's state finals are:
Region A
Eden Christian Academy, Allegheny County
Mount Lebanon High School, Allegheny County
Region B
Abington Heights High School, Lackawanna County
Meadville Area Senior High School, Crawford County
North Catholic High School, Butler County
Region C
Greensburg Salem High School, Westmoreland County
State College Area High School, Centre County
Region D
Cumberland Valley High School, Cumberland County
Nazareth Area High School, Northampton County
Region E
Central Bucks South High School, Bucks County
Merion Mercy Academy, Delaware County
Pennsylvania Leadership Charter School (PALCS), Chester County
Region F
Roman Catholic High School, Philadelphia County
Saint Joseph's Preparatory School, Philadelphia County
Region G
Harriton High School, Montgomery County
Lower Merion High School, Montgomery County