Bar Members to be Photographed
Posted on February 24th, 2022 at 10:06 PM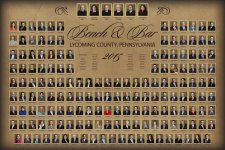 The last time that Lycoming Law Association members were photographed was in 2015. It's time for new photographs for use in the Bar composit photograph and the online LLA directory.
The LLA has engaged the firm of JRussell Photography, who specializes in "Executive Portraits" to photograph all the members for our association.
JRussell has over 90 years of combined professional portrait photography experience and is the nation's leading executive portrait studio. They have worked with more than 900 professional organizations and photographed over 250,000 professional attorneys and physicians.
The photographs will be taken at the Lycoming County Courthouse, in Courtroom #5, and there is no cost for you to participate. A professional portrait photographer will photograph you in several poses. You will then be able to view your proofs immediately through an instant video system and choose your photograph for the association to use. Additional portraits will also be made available to those wishing to purchase; however, there is no obligation. Appropriate dress is required and attire in dark and/or bold colors.
Please call JRussell at (512) 266-8921 to schedule your appointment. You can also schedule your appointment online at www.goJRussell.com (choose "Schedule" from the menu on the left side of the website, then choose "Guest Account" to get to the calendar). If you do not schedule an appointment, JRussell will be calling to schedule you an appointment.