Composite Bar Photo Released
Posted on October 2nd, 2022 at 9:42 PM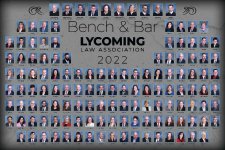 Earlier in 2022, members of the Lycoming Law Association were photographed as part of an ongoing tradition to preserve the images of our members. Those photos now appear on this website member directory.
A composite photograph that includes of the members has also been created. That composite photograph has been released. Copies may be purchased by returning the attached order form. The deadline to order is October 12, 2022.
Get your copy today!