Jonathan DeWald Appointed to LLA Executive Committee
Posted on October 21st, 2022 at 9:50 AM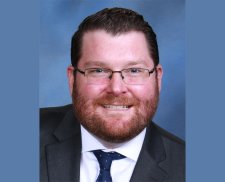 Lycoming Law Association member Jonathan L. DeWald has been appointed to fill a vacant seat on the Lycoming Law Association Executive Committee. The seat became vacant after Greta Davis resigned from the Committee because she relocated out of the area.
DeWald has been a member of the Association since 2012. He is a Muncy High School graduate, attended the University of Richmond and Dickinson School of Law, and was admitted to the bar in 2012. He currently practices with the law firm of McNerney, Page, Vanderlin & Hall.
Under the Association's by-laws, DeWald will serve until January 2023, at which time, if renominated, a full term would commence.